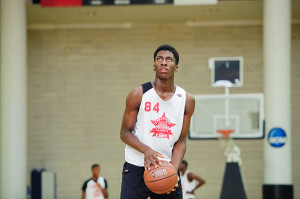 Nearly 5 years ago, we here at TheHoopDoctors.com, were one of the first to bring you the story of then 13 year old Canadian phenom Andrew Wiggins, who would go on to be the most hyped high school baller in the World since Lebron James.
Following back-to-back Canadian prospects going #1 overall in the NBA Draft, Andrew Wiggins in 2014 and Anthony Bennett in 2013, NBA scouts are finally taking notice of the immense crop of talented ballers hailing from our neighbors up North.
Players like Avery Bradley, Cory Joseph, and Steve Nash are all currently playing in the NBA, but what about the future?
The next big thing to come out of Canada appears to be a 14 year old, highlight reel dunking phenom named Simi Shittu, who is already 6'8 and 200lbs, and has caught the eye of NBA scouts, despite being part of the Canadian HS Class of 2018.
Shittu has already been tabbed as one of the top prep players in Canada and has been invited by the NBA to participate in an exclusive Fab Frosh Camp taking place this Summer in Toronto, featuring the top players around the World. He has already starred against older players for Team Canada at this year's Adidas Nations event and has future superstar written all over him.
At the Camp, Shittu was obviously the main attraction, considering it was reported that upwards of 15-20 NBA scouts are supposedly to be on hand to catch a glimpse of the next big thing from Canada…….
Please enable Javascript to watch this video
Allen Moll has been a lifelong NBA and NCAA College Basketball fan who watches and studies games religiously, and coaches youth basketball in his native Lehigh Valley region of Pennsylvania. Allen has also provided content to Bleacherreport.com, Upperdeckblog.com, Cleveland.com, CSN Philly.com, Buckets Magazine, in addition to being a tenured NBA and NCAA columnist for TheHoopDoctors.com.