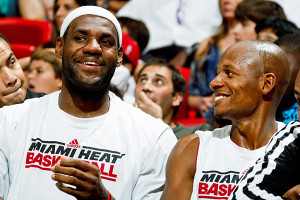 Every now and then—okay, all the time—an NBA player says something you know isn't true.
This is one of those times.
Breaking his relative silence on the NBA and his future in it, Ray Allen dismissed the notion that it was the Cleveland Cavaliers and LeBron James or bust, according to the Boston Herald's Mark Murphy:
No," he said when asked about the assumption that he would return as a Cavalier. "There's so much speculation about me going to Cleveland. I haven't even decided where I will play. Obviously LeBron and I are great friends, and James Jones and I are really close. But at no point have those two tried to push me in that direction. I haven't had that conversation. LeBron and I went on vacation to the Bahamas earlier this summer, and we didn't talk one iota about things. And that was before he made his decision.

"It's just what they start talking about on TV — where I'm supposed to go. I have not leaned towards Cleveland," said Allen. "I have not made any mention of going to Cleveland. These last two months were about me physically, and deciding whether I want to play again."
Riiiiiiiiiight. LeBron and you didn't talk about his then-impending or -complete free-agency decision, or your desire to continue playing together. Suuuuuure. We totally believe that, Ray.
(We don't.)
Allen and LeBron absolutely talked about things. And if they didn't discuss anything while going skinny snorkeling in the Bahamas, they've most definitely talked about it on other occasions. That's how I feel at least.
Otherwise, you mean to tell me that LeBron talked to Mike Miller and James Jones before he shot the shit with Allen, and that just doesn't seem possible or likely or even smart.
Should we believe Allen hasn't made a decision yet? Absolutely. Should we also believe it's not Cavaliers or bust at this point? Probably.
Ray-Ray talked about still having an ego and all that good stuff. His minutes would be curbed in Cleveland with all the shooting they've acquired. They also have Dion Waiters (for now) and could have Kevin Love soon enough. If he's into minutes and money, he could explore other options. And as he made clear, he does have other options.
Like the Los Angeles Clippers, for instance:
"A lot have called. Doc called earlier in the summer," he said. "A lot of teams want to be able to get me at the veteran's minimum. I still have an ego, too. I still have a service to provide, and teams still have to pay me what I feel my presence is worth. I have to take that into consideration, if it's worth putting my body through what it will take over 82 games."
Doc Rivers and Allen didn't end on the greatest terms. Chances are he won't be giving Doc any discounts. Allen also indicated a return to the Miami Heat appeared unlikely.
Retirement is still an option, too. Allen is 39 and has already played 18 years of basketball. He has two championships to his name and, more importantly, no regrets. He could just walk away.
Or play for the Cavs, because yes, despite how cool and quaint he's being, that's an option. LeBron is in Cleveland. Other friends are there as well, so the Cavs have to be an option—even the favorite.
In the spirt of believing Allen, though, let's say he's looking elsewhere. Where should he go?
My vote is here:
Selfishly, I think Ray Allen should join forces with Stephen Curry on the Warriors and get it over with.

— Dan Favale (@danfavale) August 4, 2014
So, yeah. Make it happen, Ray.
Play with James, retire or appease those like me who want to see you and Stephen Curry drain bombs side by side.
Dan Favale is an avid basketball analyst and firm believer in the three-pointer as well as the notion that defense doesn't always win championships. His work can be found at Bleacherreport.com in addition to TheHoopDoctors.com. Follow @danfavale on Twitter for his latest posts and all things NBA.