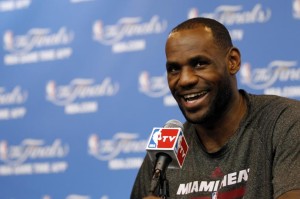 The player with the best-selling jersey in the NBA became, once again, the most beloved player in the league, except, perhaps, in parts of Miami, where they've gone all Cleveland circa 2010. Once again, people are over-reacting to a man doing what he wants and has every right to do. James is a quality human being who loves where he's from and wants to be a good role model for kids, especially from his home state of Ohio. Ultimately, it's like Aristotle said, "happiness depends on ourselves," and James took control of his own destiny once again by making himself happy.
Like James said in his essay to Sports Illustrated, Miami was a great place, the place where he learned how to win from a championship organization, but it was time to move on. James cemented his legacy in Miami, winning back-to-back championships. Yes, they also lost 2 Finals, but that doesn't diminish his legacy, because even Magic Johnson lost 4 NBA Finals (1983, 1984, 1989, 1991). Larry Bird lost twice (1985, 1987). Kobe lost 2 NBA Finals (2004, 2008). Hey, Jerry West lost 8. James has lost 3 (2007, 2011, 2014), but it's hard to be like Mike (Jordan 6-0 in the NBA Finals).
The eminent re-signing of Dwayne Wade and the 5-year, $118 million dollar deal that fell into Chris Bosh's lap remain question marks for a Miami Heat team that made it to the Finals and lost 4-1 mostly on the back of the Cleveland-bound LeBron James. With their only players under contract, officially, Norris Cole, first-round draft-pick Shabazz Napier, and Bosh, the Heat have a lot to figure out (even though they are about to sign Danny Granger and Josh McRoberts), if they want to remain title contenders in the East, but without LeBron that will be a tall order.
LeBron James Top 10 Highlights in Miami:
When LeBron James and the Heat lost the 2014 NBA Finals 4-1 to the San Antonio Spurs, I actually said to myself "James could do just as well in Cleveland." James spent 3 seasons losing in the semi or Eastern Conference Finals with the Cavs after their solo trip to the NBA Finals in 2007, where James got steam-rolled by the Duncan-Parker-Ginobili led Spurs, 4-0. Now that the new lord of the rings is coming home to Akron, the questions remain: can James lead them back to the Finals? And, if so, can James lead the Cavs past the Spurs? Either way, LeBron says, he's "ready to accept the challenge."
LeBron James Top 10 Highlights in Cleveland:
Vegas gives the Cavaliers a 4-1 chance to win the championship this season (Heat 65-1). The Spurs are at 6-1, the Thunder also at 6-1.
James showed maturity in his Decision II that consisted of nothing more than a letter written with the help of Sports Illustrated's Lee Jenkins. James said, "I learned from a franchise that had been where I wanted to go. I will always think of Miami as my second home…I'm not having a press conference or a party. After this, it's time to get to work…this is what makes me happy."
Just like the protagonist in the fairytale ending of Tolkien's Return of the King, LeBron is overcome with feelings of happiness and gratification. And for LeBron, his happiness has become what Aristotle envisioned, "happiness…in accordance with virtue."