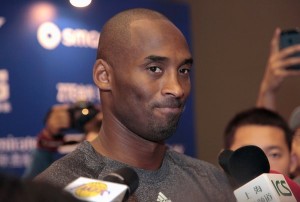 Despite being unable to land big free agents, LeBron James and Carmelo Anthony, the Los Angeles Lakers star Kobe Bryant is actually quite satisfied with Mitch Kuptchak's efforts for the organization this summer, according to ESPN.com's Ramona Shelburne.
So far, the Lakers have lost key players this off-season, specifically their former center Pau Gasol, who only wanted to sign with a contender—the Chicago Bulls. However, it looks like Bryant continues to remain patient and optimistic about his team's future.
Kobe: "I can sit here and tell you with 100 percent honesty that I'm happy with the effort the organization put forward this summer"

— Ramona Shelburne (@ramonashelburne) July 18, 2014
Kobe "I think Mitch has responded quite efficiently (from missing on Melo/Pau) by picking up some of the pieces he has"

— Ramona Shelburne (@ramonashelburne) July 18, 2014
The acquisition of new players such as Carlos Boozer, Jeremy Lin and Ed Davis were somewhat logical moves in preparation for next year's free agency. The Mamba will just have to make do with what he's given and focus on returning to his all-star form.
Still we wonder, if the Mamba will continue to sustain this optimism for next season, especially with a team who'll probably struggle to earn a playoff spot next season. But for sure, his return will be highly-anticipated no matter what.
As he turns 36 this August, Father Time just keeps getting closer and closer, and we may be seeing the final chapters of the Kobe Bryant saga.
Hopefully, we get to witness his greatness at least one more time.
Benjamin Felix Santos is a senior college student from the Philippines. An aspiring NBA writer, who bleeds the purple and gold. His love and passion for the game will never die.
Follow him on twitter: @biefsantos