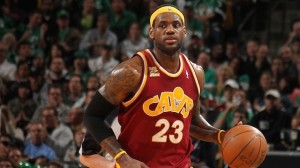 As free agency progressed, it became more apparent that LeBron James was heading back to Cleveland. The rumors and signs eventually became too obvious to ignore.
But a year ago, not many people would've thought this. In fact, a month ago, it wasn't on anyone's radar. As ugly as the split was between LeBron and Cleveland, this whole episode shows you that you can't even tell what's in someone's heart.
One writer accurately predicted LeBron's return to Cleveland months ago. In fact, he also predicted Julius Randle to L.A. too. Bryant T. Jordan, author of "Saving the Lakers: A Be the General Manager Book" was dead on. Here's some of what he wrote:
It was shocking news when LeBron James decided to opt out of the final year of contract with the Miami Heat and re-join the team that drafted him, especially after Cavs owner Dan Gilbert went all Adolf and publicly denounced James for leaving. However, the man knows as King James was never stupid. He showed his basketball intelligence when he signed with the Heat and then went out and won multiple titles, and he showed it again this past summer when he left the aging Heat to sign with a Cavs team loaded with young talent and another legit superstar with his best days ahead of him in Kyrie Irving. And now, LeBron is once again reaping the rewards of his prudent basketball decision-making.