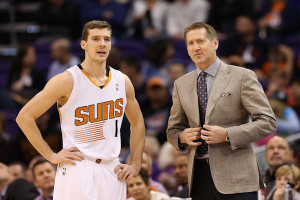 Relationships between NBA coaches and players will never be the same.
Not in Phoenix at least.
During an interview with kosarka.si—the english transcription of which comes courtesy of HoopsHype—Suns point guard Goran Dragic revealed that he has an unconventional relationship with head coach Jeff Hornacek:
Goran Dragic: Very special relationship. We spend a lot of time together. A couple of times he came to our house for lunch. One day he even babysat my son Mateo, which is a bit unusual [laughs]. I was really surprised about that one. We developed a relationship based on friendship. We hang out a lot. When it's time for practice, of course we're professional about our roles as player and coach. But after practice we were friends.
Try telling yourself that's not awesome. Your nose will grow. Your pants will be set ablaze. George Washington himself will come back from the dead just to slap you silly.
In the interest of full disclosure: I'm merely assuming this is unusual. It could be perfectly normal and I'm just blowing it out of proportion like some common hot-takes manufacturer who uses one bad game by LeBron James to tarnish and criticize and belittle his legacy. But I promise that's not my intent. This just seems weird.
Could you imagine Gregg Popovich babysitting Tim Duncan's kids? Rick Carlisle or owner Mark Cuban babysitting for Vince Carter? Mike Woodson babysitting for Car—oh, yeah, bad example.
Personally, I don't see it. It just feels like this is highly unorthodox.
The whole friends bit is odd too. Not in a bad way. Just odd. Hornacek has 22 years on Dragic. What, aside from basketball, could they possibly have in common? What would they possibly do when they hang out? Seriously, I want to know. Please.
From an outsider's perspective, though, this just makes you like both Hornacek and Dragic better. And the Suns too. This year's team looked fun. They literally shattered expectations, and even though they failed to make the postseason, they're armed with first-round draft picks and promising young talent—provided they re-sign Eric Bledsoe, of course.
Now we enter the matter of league-wide precedent. Hornacek is babysitting kids. What is your coach doing for you, NBA Player X? Is he babysitting your kid? Cooking you dinner on Taco Thursday, Fried Ravioli Friday or Sausage-infused Steak Saturday? Paying for your mani-pedi?
We know Mavericks owner Mark Cuban gives out massages (Monta Ellis says thank you), so perhaps there is more to this player-coach/owner dynamic than we understand.
At least we know Hornacek is still clutch. Fourteen years ago, he was raining jumpers for the Utah Jazz. Nowadays, he's ensuring that Dragic doesn't have to sell his robot-wrestling tickets (yes, I just made that up; what of it?) for fear of leaving his child unattended.
Way to go, Jeff.
Dan Favale is a firm believer in the three-pointer as well as the notion that defense doesn't always win championships. His work can be found at Bleacherreport.com in addition to TheHoopDoctors.com.