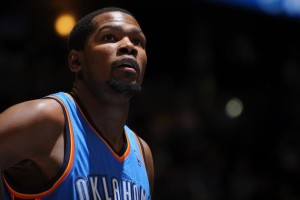 Kevin Durant will reportedly be named this season's NBA MVP. Durant is laser focused on winning a title, but this has to feel good since he's tired of always finishing second. For a while there, it looked like maybe he wouldn't be on the court to receive the award.
Typically, the award is presented to the MVP during the beginning of the second round and Memphis tried their hardest to make sure Durant wasn't playing in the second round.
The official announcement should come later in the week.
Thunder forward Kevin Durant has reportedly been named NBA MVP for the first time during his seven-year career.
ESPN.com reports that the league's scoring champ will officially be recognized as 2014 NBA MVP early next week.
Durant, 25, finished second to Heat forward LeBron James in the 2012 and 2013 MVP votes. The five-time All-Star emerged as the MVP favorite this season by averaging a career-high 32 points, 7.4 rebounds, 5.5 assists and 1.3 steals while shooting 50.3 percent from the field and 39.1 percent from deep.
H/T: SI