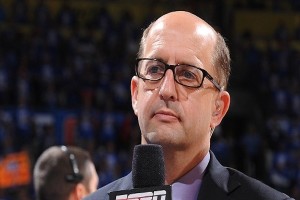 Everything about the New York Knicks' coaching search has been weird.
So, typical Knicks.
But in a different way.
Team president Phil Jackson whiffed on his first and only choice in Steve Kerr, who recognized that more money and a better roster beat out whatever potential shit show New York could play home to next season. People think James Dolan mucked up those negotiations, that he suddenly became financially responsible. To that I say…nothing. I just laugh out loud. I LOL from dawn 'til dusk, rolling on the floor, giggling my ass off.
Of course Dolan played a role. Kerr's bond with Warriors owner Joe Lacob was forged over golf or something. If he had been into ATV-ing, the Knicks would have been good. Off-road fun was part of the time Dolan and Jackson spent together. Too bad Kerr couldn't join that totally peculiar club.
Anyway….yes, Dolan is awful times awful squared. He's that bad. But let's not insult the Warriors here. They have a great team. That counts for something. Above all else, I'm not one to believe that the ever-financially reckless Dolan handed $60 million to a first-time president only to proceed and argue dollars and cents over said first-time president's top coaching candidate. It makes no sense.
Money doesn't faze Dolan. He paid Larry Brown more to go away after one season than the Warriors gave Kerr over the next five years. So, yeah.
Like I always do, I digress. Point is, Kerr's decision has left Jackson and the Knicks scrambling. All sorts of names are being dropped. From Derek Fisher to Luke Walton (yes, Luke Walton) to Mike Dunleavy to Denver Nuggets head coach Brian Shaw, the Knicks apparently have interest in everyone.
Except for, you know, big, experienced names. That's the weird part. The Knicks normally chase big, established names. Jackson appears to be doing just the opposite. You don't hear much about Lionel Hollins or Mark Jackson. You hear about Fisher and Shaw. It's weird.
But Jeff Van Gundy—another big name who hasn't been linked to the Knicks job, even though yours truly would totally be down with that—is ready and waiting just in case Jackson decides to go big-name hunting. From ESPN New York's Ian Begley:
If he does, Van Gundy, who is reticent about discussing current coaching openings, said on ESPN Radio's "The Ian O'Connor Show" Sunday that he'd be happy to "talk basketball" with the Zen Master.

"If Phil Jackson ever wanted to talk basketball with me, which, listen, who knows if that's true, but if he ever did, of course I would take the time, because I'm sure I could benefit from the conversation," Van Gundy told O'Connor.
Dare to dream, Jeff.
It remains unlikely that Jackson will call Van Gundy. So unlikely. Not just because the two have a murky history either. Van Gundy once questioned Jackson's willingness to assume control of an imperfect roster. Very trivial stuff. Nothing the two can't work past.
Thing is, Jackson doesn't want Van Gundy. Or Hollins. Or Jackson (though Begley says he hasn't ruled him out). He wants a proxy, a stand-in. He basically wants a puppet, someone who will allow him to coach the Knicks without actually coaching them.
Next season, one way or another, the Knicks will be a reflection of Jackson. He doesn't want to handle the daily grind of coaching—in other words, traveling to away games—so he's going to hire someone who can do that for him. Almost everything else will be him. Believe that. I sure do. That's why he's not interested in big, flashy coaches. To a point, it doesn't matter who he hires. He'll still impart his system and ideals and general basketball philosophies on this Knicks team like every other NBA head coach, he'll just be doing from further away.
Whether that's a good thing, well, we'll just have to wait and see.
Dan Favale is a firm believer in the three-pointer as well as the notion that defense doesn't always win championships. His musings can be found at Bleacherreport.com in addition to TheHoopDoctors.com.