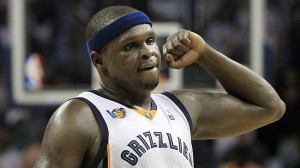 Name the NBA team(s) tougher to figure out than the Memphis Grizzlies.
You can't, can you?
Because there isn't one.
A lot of smoke is coming out of Memphis these days. The Grizzlies don't seem to know which way is up, their owner may or may not be a micromanaging lunatic, or he may or may not awesome.
Through the smoke, though, shines a glimmer of light, of hope—you know, if you're a diehard fan of Zach Randolph.
According to Yahoo Sports' Adrian Wojnarowski—who continues to be anywhere and everywhere these days—the Grizzlies and Z-Bo are engaged in contract extension talks:
As Memphis Grizzlies owner Robert Pera and interim general manager Chris Wallace regain control of basketball operations in the wake of CEO Jason Levien's firing, there appears to be one immediate benefit for the franchise's future: the chances of re-signing popular star Zach Randolph.

Randolph, 32, has until June 30 to trigger a $16.5 million player option on the final season of his contract and already had begun preliminary discussions on a long-term extension with Memphis, league sources told Yahoo Sports.
Look, I know what you're thinking, because quite honestly, I'm thinking it too: What in the hell is Randolph thinking?
Z-Bo has made it perfectly clear that he wishes to retire in Memphis, but that was before it turned into a post apocalyptic, politically driven wasteland where all conventional business wisdom goes to burn, wilt and ultimately die.
Why does he want to be a part of this mess long term? Is he a glutton for punishment? Are the reports of dysfunction simply false?
Does money in fact talk?
The latter is no doubt true. Randolph doesn't stand to net nearly as much as the $16.9 million he's owed next season, but he should still secure a nice multiyear contract worth at least $11-12 million annually. At 32, he isn't the ideal building block, but his play style—for the most part—is sustainable. He isn't overly reliant on athleticism or speed, just sheer work ethic.
That he's willing to negotiate an extension now, amid all this turmoil, implies that recent reports are absolute bullshit to some degree. Randolph may love Memphis, but he isn't stupid. He's matured since joining the Grizzlies. After playing for the New York Knicks and Portland Trail Blazers, he knows how damaging playing for franchises in the throes of stupidity can be. He doesn't seem like the type to labor through such organizational sludge again.
If he's still prepared to remain in Memphis, he has to be confident that Marc Gasol isn't leaving in free agency next summer. That owner Robert Pera will spend to win.
That the Grizzlies aren't the disastrously disjointed mess they're being portrayed as.
Trust in Z-Bo.
Feel free to render your verdict on the state of this franchise later on, though, when the Grizzlies—outside of Z-Bo—have shown they're not all off-court theatrics and harvesters of petty, asinine bunkum.
Dan Favale is a firm believer in the three-pointer as well as the notion that defense doesn't always win championships. His musings can be found at Bleacherreport.com in addition to TheHoopDoctors.com.