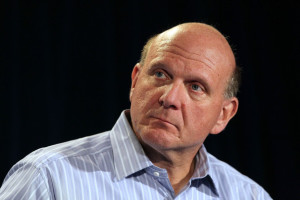 The actual worth of the Clippers was somewhere just north of $1 billion, according to Forbes, but the winning offer exceeded that substantially.
Former Microsoft CEO Steve Ballmer submitted an initial bid for $1.8 billion. Rochelle Sterling, who was negotiating the sale of the team was looking to make a timely sale. Apparently the two parties settled on a price of somewhere just shy of $2 Billion. On June 3, NBA owners were set to vote on how to proceed with forcing the Sterling's to sell the team. Now they may be voting on approval of the deal reached with Steve Ballmer.
It's funny how things pan out. What this Sterling situation went down about 15-20 years ago. It would've been interesting to see those bids. Now, the Clippers are the hottest ticket in all of sports ownership.
Shelly Sterling reached an agreement Thursday night to sell the Los Angeles Clippers to former Microsoft CEO Steve Ballmer for $2 billion, according to an individual with knowledge of the negotiations.

The individual, who wasn't authorized to speak publicly, told The Associated Press that Ballmer and the Sterling Family Trust now have a binding agreement. The deal now must be presented to the NBA.

Shelly Sterling negotiated the sale after her husband, Donald Sterling, made racist remarks that were made public. Donald Sterling must also approve the final agreement as a 50 percent owner.

Ballmer beat out bids by Guggenheim Partners and a group including former NBA All-Star Grant Hill.

It's unclear if the deal will go through. The individual said that though Donald Sterling was not involved in the negotiations, "at the end of the day, he has to sign off on the final process. They're not going to sell his 50 percent without him agreeing to it."
H/T: NBA.com