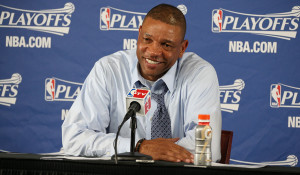 Everyone has one of those days, when at the end of it, all you want is a nice, tall, cold water.
Er, I mean beer. Or bourbon. Or vodka. Any alcohol really. And why the hell not? Consumed in moderation, cocktails can help alleviate stress. I think. Maybe. For some people, most definitely.
Los Angeles Clippers head coach Doc Rivers is one of those people. On Sunday, he was very openly, completely justifiably one of those people.
Doc's Clippers trailed the Oklahoma City Thunder by as many as 22 points in the first quarter of Game 4. Entering the second quarter, they were down by 17. It was ugly. Though it got a little bit better leading into halftime—the Clippers cut the lead to 11—the third quarter will still ugly. Really ugly. Both teams shot under 30 percent from the floor.
Heading into the fourth, the Clippers were still down 12. Then, with Blake Griffin (foul trouble) and Chris Paul on the bench, they fell behind by 16. It was over. They were done. Finished. Kaput.
Until they weren't.
Once Griffin and Paul re-entered the game, the Clippers came storming back, using a steady dose of their two superstars and one unlikely hero in Darren Collison, the backup point guard who attacked the rim with reckless abandon and torched the Thunder defense for 12 points.
Just like that, the Clippers were down 10. They were down eight. They were down six.
They were down one.
Jamal Crawford hit a go-ahead three-pointer and the Clippers never looked back. Well, they looked back a little bit. The Thunder tied the game once more, but that was it. Russell Westbrook wound up missing a game-winning three and that was all she wrote.
Exhausted? Me too. And all we did was watch it. Imagine how the players felt. Imagine how Rivers felt after bearing witness to and coaching through this Game 4 extravaganza.
"I want a beer," Rivers said before starting his postgame press conference, per ESPNLosAngeles.com's Arash Markazi.
People laughed. Reporters—many of them, anyway—are conditioned to laugh, even if they don't mean it. I've done interviews where players say something that's not really funny, but intended to be funny, so I laugh like it's funny, just because it's supposed to be funny. It's this awkward, forced laugh that, if you're lucky, you share with them, almost like you're on equal footing for once as just two guys talking.
This fit of laughter wasn't like that. It was organic, because this was funny. Incredibly funny.
In four words, Rivers perfectly encapsulated what was a wonderfully wacky, most definitely unpredictable 48 minutes of playoff basketball. That's tough to do. Kind of like this game was tough to play. But give it up for Rivers' Clippers. They took advantage of a Thunder team that started sleepwalking through their offensive sets down the stretch, playing the brand of basketball that reminds you they need to be more imaginative and less predictable.
Erasing such a huge deficit this time of year isn't easy. Not against a purported contender like the Thunder. The Clippers, however, did it. It was difficult. It was wild. It was exhausting.
Talking about it has been exhausting.
Someone grab me a beer. Or a vodka-gatorade. Whatever's closest.
Dan Favale is a firm believer in the three-pointer as well as the notion that defense doesn't always win championships. His musings can be found at Bleacherreport.com in addition to TheHoopDoctors.com.