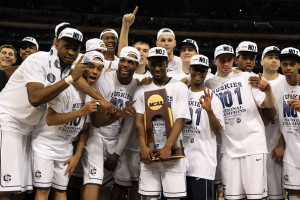 Whether you love or hate them, for better or worse, and if it makes sense or not, Duke is the gold-standard in the eyes of many when it comes to college basketball. Don't shoot the messenger. Part of the reason is winning, but it has more to do with allure. Those two used to be flipped and they were once adored because of titles.
Prior to their 2010 National Championship win over Butler, the last time Duke won a title was 2001. To be considered the unofficial best program in the land, that's  a long time to go in between titles. And first round loses to schools like Mercer doesn't help, either. So why is Duke still considered Duke? Because their Duke, I suppose.
In light of their championship over Kentucky on Monday night, UConn is the new Duke. UConn is the gold-standard in college basketball and the program that has won the most recently. After all, that's what it's all about right?
Over the past 15 years, UConn now has four National Championships: 1999, 2004, 2011 and 2014. There was also an additional Final Four appearance in there as well. No other school has more than two titles in the time period. Those titles alone don't earn them the distinction of being the new Duke. Their recent path to get here makes the story far more compelling.
A few years ago when Syracuse and Pitt jumped ship and headed for greener pastures and greener dollars in the ACC, naturally, UConn tried to do the same as the Big East boat was sinking. However, they were basically told by both the ACC and Big 10 that their football program wasn't good enough (despite a BCS game win). Therefore, UConn had no choice but to join this upstart AAC (American Athletic Conference). What a slap in the face to an original Big East school.
During all of this, UConn became academically ineligible for post-season play last year. That meant they couldn't even play in the Big East tournament during their final year in conference. But don't cry for them. I mean, it was their own doing. Nor could they play in the NCAA tournament itself. With the news that the school had this one-year tourney ban on the horizon, some guys transferred. Namely Alex Oriakhi who went to Missouri to finish off his career. But key guys stayed. Shabbazz Napier stayed. Giffey stayed. Olander stayed. They had no reason to stay, but they did. Frankly, if they wanted to leave, nobody at UConn could've been upset by the decision.
And none of this even addresses the fact that Jim Calhoun retired and rookie head coach and UConn alum Kevin Ollie was to take over, during all of this. That's alot for any program to handle in such a short time. That all transpired following the 2011 championship season, and here they are. Back as if they never left.
When there was that changing of the guard at head coach and conference switch, UConn was on the brink of being forgotten. The break up of the Big East forever changed the landscape of college basketball and they were at the epicenter of it all.  The fact that they were able to demonstrate resiliency and fight through the tough times shows the character of the program. Not the number of nationally televised games on ESPN.
So while they might not be in the shiny ACC with Dick Vitale calling all of their games, and while many are romanticizing over the allure that Duke and other schools may possess, UConn is busy doing something more often than any other school in the land: winning titles. Impossible to discredit that.
Kevin Burke of The Kevin Burke Project  hosts The Hoop Doctors weekly podcast show, which you can subscribe to for free on iTunes. Follow Kevin on Twitter and Facebook