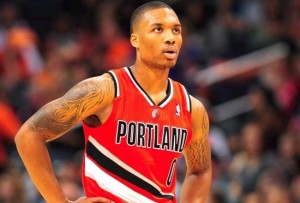 A few months ago, it was rumored that Damian Lillard was getting set to opt out of his adidas deal at the end of the season and listen to offers from potential suitors such as Nike. In only his second season, to say that Lillard has surpassed expectations would be an understatement. With a Rookie of the Year and All-Star appearance under his belt, he's in some elite company already.
Perhaps sensing the realization that Derrick Rose (their biggest name) is hurt once again, and the potential of losing Lillard, adidas has secured Damian by giving him a deal that's reportedly near Roses 10-year, $200M+ contract. That would be a lot of money wrapped up in two players; one who has been repeatedly hurt and another who doesn't play in a huge market. But if you're adidas, you have to do this.
This deal is reportedly the third-largest in history.
The deal, according to another source, is an eight-year contract that has the potential to stretch out to 10 years if he reaches certain incentive clauses. We've confirmed Lillard's new contract is slightly less than that of Derrick Rose….

Due to Lillard reaching certain performance incentive clauses in his adidas rookie shoe deal, he was able to opt out at the end of the season to pursue a long-term, prosperous contract with adidas, Nike or other major competitors. Instead of waiting, Lillard's representatives gave adidas an exclusive 30-day window to renegotiate before checking out other offers. That 30 days was up on April. 1
H/T: CSNNW