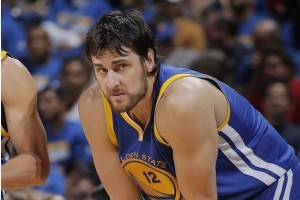 There's nothing like seeing a multimillion-dollar investment go up in flames at the worst possible time.
Why yes, we are referencing the Golden State Warriors' relationship with the injury-prone Andrew Bogut. How did you know?
The Warriors announced on Monday that Bogut has been diagnosed with a rib fracture and will be sidelined indefinitely.
Official: @andrewbogut has been diagnosed w/ a rib fracture and will be sidelined indefinitely.

— Golden St. Warriors (@warriors) April 15, 2014
Not one game, but indefinitely. Not until the playoffs start, indefinitely.
Wait, the playoffs. Does "indefinitely" mean he's going to miss all or part of the posteason? It quite possibly could. Yahoo! Sports' Marc J. Spears provides additional details:
Bogut said he's been advised the rib is too close to his right lung for him to play through the pain because he would risking puncturing the lung. He originally suffered the injury against the Denver Nuggets on Thursday and it became worse in Sunday's overtime loss to the Portland Trail Blazers. He took a pain killer before Sunday's game, but the injury worsened in the fourth quarter.

I'm going to dedicate the summer to learning how to play while avoiding contact at all costs, I guess – moving out of the way, not taking charges and not trying to block shots," Bogut said. "All of my injuries have been high-impact injuries. I put my body on the line to try to take a charge or a block a shot, and unfortunately, I've been on the tail end of them. There are some players in the league who are very good strategically at avoiding contact, so I guess I need to watch them and bring that into my game."
To this point, Bogut had remained relatively healthy, making the fourth-most single-season appearances of his career (67). His absence comes as a crushing blow to a Warriors team that needs his defense.
Despite being armed with plenty of offensive firepower in Stephen Curry, David Lee and Klay Thompson, it's the Warriors' defense that has carried them for most of this season. They rank third in defensive efficiency, per NBA.com (subscription required), and Bogut is a huge part of that.
When he's on the floor, the Warriors allow just 98.8 points per 100 possessions and post a plus-rating of 9.1. When he's off, their defensive rating increases—which is bad—to 100.8 while their point differential drops to 2.4.
Part of that has to do with head coach Mark Jackson's inexplicable preference to play four or five bench players at once. Mostly, though, Bogut is an elite defender and valuable commodity come playoff time, when the pace diminishes and strong defensive sets are paramount.
There's no predicting how the Warriors' defense will be without him in the postseason. Luckily for them, Lee is just working his way back into the lineup now after battling injuries himself, so they'll at least be able to have him jump center in the interim.
The Warriors made it out of the first round and pushed the San Antonio Spurs to the brink during the playoffs last year while playing small. Bogut's injury paves the way for them enact to a similar blueprint.
Still, this could be really bad. The Warriors are slated to play the Los Angeles Clippers or Oklahoma City Thunder in the first round, two teams with high-powered offenses. If Bogut's defense significantly alters their ability to defend, then the Warriors are screwed and will find themselves hoping once again that next season is their season.
Dan Favale is a firm believer in the three-pointer as well as the notion that defense doesn't always win championships. His musings can be found at Bleacherreport.com in addition to TheHoopDoctors.com.