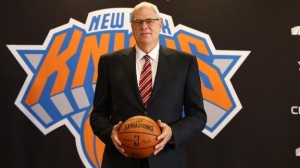 Today, Phil Jackson was officially introduced as president of the New York Knicks. As you can imagine, the presser was jam-packed. Right off the bat, Phil seemed very serious about the role that he was embarking on. Championships aside, it's easy to see how he can impress an owner during an interview.
He already has a plan a vision and he shared some of that.
Naturally, Carmelo is a part of the future and maybe Mike Woodson is as well. That's what he said, anyway. He can't say "I'm going to fire Mike at the end of the season", can he?
Here's some of his presser: