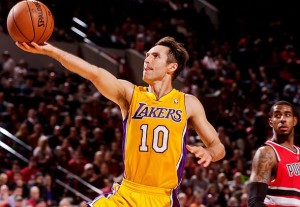 With the Lakers already mathematically eliminated from playoff contention in a forgettable season, Steve Nash is still fighting. Initially it was reported that he'd retire at the end of this season, but he has shot down those rumors.
Missing much of the season due to injury, Nash is expected to make his return to the court tonight vs. the Wizards as he'll likely come off the bench. He hasn't played since February 11 and at least he isn't giving up.
The two-time MVP practiced on Thursday and is expected to backup starter Kendall Marshall. The matchup between Marshall, John Wall and the franchise that waived him before he ever put on a uniform already made for an intriguing scenario.
Nerve damage in his back and hamstring injuries have sidelined the 40-year-old Nash throughout the season. In 10 games, he's averaged 7.6 points and 4.7 assists.
H/T: CSN Washington