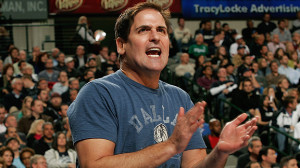 Mark Cuban isn't one to hold his tongue. He made ripples recently when he said the NFL is 10 years away from imploding because they are overexposing themselves, which is essentially killing the novelty which makes the league as successful as it is.
This time, Cuban decided to reign it in and take aim at his own league. Top to bottom, the Western Conference has been stronger than the East for a while, but it seems even more apparent this year. Could this have to do with the 2014 NBA Draft expected to be one of the best in the last 15 years? Cuban seems to think so.
Appearing on Pardon the Interruption yesterday, Mavericks owner Mark Cuban was asked about Eastern Conference teams tanking.
"Oh, yeah. There's no suggestion. It's an absolute."
The Eastern Conference's five worst teams: Bucks, 76ers, Magic, Celtics and Pistons.
In the last month, those five teams have gone 4-47 when not playing each other or a couple Western Conference tanking candidates, the Jazz and Kings.
Prior, those five teams went 53-166 against other opponents.
H/T: ESPN's PTI via PBT