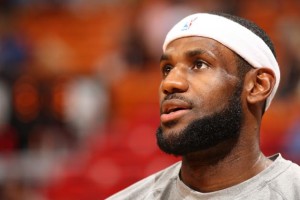 Now that Phil Jackson is officially with the Knicks, the fun begins. Because he's 68 years old, Jackson is probably going to want to move quickly to build a winner in New York. The fastest way to do that would be through free agency.
It just so happens that LeBron James can become available this summer and James Dolan would love to land LeBron since he lost out on him in 2010.
Phil's arrival all of  a sudden makes New York more appealing according to some, but who knows for sure? LeBron is probably unsure at this point.
Jackson is 68 and for weeks he told close friends that his dream job would be  a consulting gig. He never figured Dolan would come calling with the chance to  rescue the franchise that drafted him.

Jackson is not in this for the long haul. His plan is to get the Knicks back  to an elite status quickly, and the only way to do that is via free agency.

The Knicks can have salary flexibility next summer, when Love and Rajon  Rondo are available. Durant is free in 2016.

But Dolan and Jackson can dream big. Heat executives, according to a source, are  not convinced that James will stay, though in their heart of hearts they believe  he will re-sign. But Jackson's arrival changes things.
H/T: NY Daily News