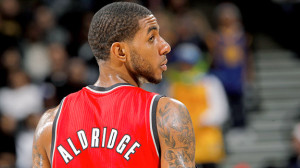 Needless to say, Portland can ill afford to lose LaMarcus Aldridge. Especially with the playoffs beginning next month. On Wednesday night, Aldridge hit the deck after driving to the basket vs. the Spurs and had to be helped off the floor. Hopefully this isn't anything too serious.
LA fell to the ground after driving to the basket, making contact with Spurs back-up F/C Aron Baynes.
He remained on the ground, writhing in pain, holding his lower back, tailbone area before he was helped off the court under complete assistance, barely putting any weight on his right leg.
The Trail Blazers announced that Aldridge suffered a back contusion will not return.
Aldridge remained unable to walk under his own power and seen being wheeled around in a wheelchair during the 4th quarter.
LA had x-rays on his back, which came back negative, according to Trail Blazers PR.
H/T: CSNNW