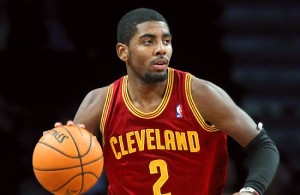 Kyrie Irving's string of injuries throughout his young NBA career has continued. Last night, the Cavs lost to the Clippers in L.A. and may have lost their PG for the remainder of the season as well.
Irving left the game in the first quarter after injuring his left bicep and did not return. He is scheduled for an MRI today but it is widely believed that his season is over.
Irving, the Cavs All-Star point guard, left the game with a left biceps injury late in the first quarter, and he left the arena with his left arm in a sling. He is scheduled to have an MRI on Monday in Cleveland, but two NBA sources indicated the injury could be severe enough to end his season in the worst case scenario.
That would be a blow to the Cavs, 26-41, clinging to their fading playoff hopes in spite of being 4.5 games behind eighth-seeded Atlanta with 15 games left, as well as to Irving, who worked extremely hard last summer in order to prevent the sorts of freak injuries that have plagued him throughout his career.
H/T: Cleveland.com