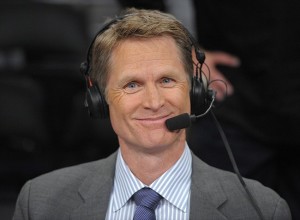 Sorry, Mike Woodson.
Despite Woodson still being in the New York Knicks' employ, the team's head coaching position has long been considered available. With Phil Jackson now running the show—or doing whatever it is he'll actually be doing—that hasn't changed. If Woodson is still haunting New York's sidelines next season, it will likely be as one of those crazed game-crashing fans, only he'll be seeking revenge, or trying to recruit J.R. Smith to come play for the college basketball team he will be coaching.
The near-certain nature of Woodson's departure means New York has a job opening. And who better to fill it than Steve Kerr, disciple of Jackson? That's what Jackson is thinking, at least.
According to ESPN's Marc Stein, there's a "growing belief" within Madison Square Garden that Kerr is Jackson's top choice to replace Woodson:
Within MSG walls, meanwhile, growing belief among current regime is that Steve Kerr is indeed Phil's first choice to be next Knicks coach

— Marc Stein (@ESPNSteinLine) March 15, 2014
Feel as you wish about this one, New York. Personally, I'm on the fence. Kerr is a standup guy and likely understands how to run the Triangle offense Jackson made both mysterious and famous. But I've always wondered how that system would fare in today's NBA, where mid-range jump shots are considered taboo.
More than anything, though, hiring an inexperienced coach seems curious for such an established, championship-seeking team.
Making an exception for Jackson is fine. He's Phil Jackson. The Knicks need his presence and the respect and adulation he commands. Kerr is a different story. He wouldn't be some iconic sideline pawn. He would be a rookie head coach, tasked with leading a team of veterans.
That's all assuming Jackson doesn't plan on blowing New York's convocation straight to hell, of course. The Zen Master could elect to rebuild from scratch, leaving him free to experiment with the head coaching position as well.
Chances of Jackson spearheading a full-fledged rebuild are less than slim, though. At 68, he isn't with the Knicks for the long haul. He's there to quickly remedy any issues they currently have. He'll be looking to re-sign Carmelo Anthony and usher in new stars by 2015 or earlier.
No harm, no foul there. Rebuilding in New York is virtually out of the question anyway, even without Jackson. Now that he's in town, it's simply not even an option.
But hiring Kerr is. And it's a risky gambit at that.
Rookie head coaches and big markets don't go together, unless instant results are yielded. Brooklyn Nets head coach Jason Kidd was nearly swallowed whole at the beginning of this season for failing to make an instantaneous contender out of his faction.
If the Knicks get off to similarly slow start—or are comparably bad to this season—Kerr would face identical backlash, as would Jackson. Maybe that's why the Knicks let him do it. The team is his baby now, in a sense. If he has absolute control like he's supposed to, he can make whatever decisions he likes.
If they work out, he's a hero. Owner James Dolan is a hero by extension for allowing him to ply his trade. If Jackson fails, the Knicks have a fall guy, someone to displace blame upon. He's an expensive patsy, but scapegoats are invaluable in New York.
Still, it's too early to tell what's going to happen. Jackson's coaching search will likely lead him to other candidates, and if Chicago Bulls coach Tom Thibodeau becomes available, forget about it.
All we know—and we don't even know, not really—is Woodson's done. Or at least on hottest of hot seats, which, if Jackson has his way, could soon become the throne upon which Kerr will sit.
Dan Favale is a firm believer in the three-pointer as well as the notion that defense doesn't always win championships. His musings can be found at Bleacherreport.com in addition to TheHoopDoctors.com.