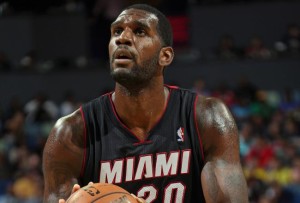 You have to give Greg Oden credit. Despite his many setbacks, he never gave up and has made through an entire season healthy (knock on wood). Granted, he didn't play during the beginning of this campaign, but still.
Because of injuries and changes to the lineup implemented by Erik Spolestra, Oden has started a handful of games this year. As a reward, Oden will be the Heat's starting center moving forward. This will be key for Miami come playoff time, as they'll need some big bodies to contain Roy Hibbert and Andrew Bynum in Indiana.
Congrats, big man. Stay healthy.
Greg Oden's move into the Miami Heat's starting lineup is more than an experiment. Coach Erik Spoelstra said Tuesday he plans to move forward with the alignment that had Oden with the first team Sunday against the Houston Rockets and then again Tuesday against the Cleveland Cavaliers at Quicken Loans Arena.
 "My board in my office at the arena looks like the character from Beautiful Mind," Spoelstra said, "and so I have a lot of different scenarios. So it's one of the many scenarios that I've chewed on for the last six weeks or so."
H/T: Sun-Sentinel