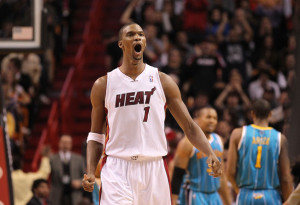 When Chris Bosh speaks out, the Miami Heat know they're in trouble.
Following Saturday night's letdown loss to the New Orleans Pelicans, Bosh unleashed on his team, questioning their passion, per ESPN's Michael Wallace:
"I haven't heard nothing, just nothing," said Bosh, who took his routinely constructive criticism to a new depth Saturday. "We just show up and do whatever. [After] a loss, nobody's upset. [After] a win, nobody's happy. There's no passion. There's nothing. If you're frustrated, say you're frustrated. Give reasons for that. We just need some dialogue around here. We've been keeping things in for a whole season now. And we're running out of time. We need to let it out and have some urgency."

[…]

"We're going to have to draw the line in the sand somewhere," he said. "We don't talk about it. We're not expressing ourselves in the locker room or on the court. So I figure I'll be the first one to say it. We suck. And if we don't play better, we'll be watching the championship at home."
If I told you to walk into Miami's locker room, find the team's most optimistic player and give him a ritual fist bump, that player would (usually) be Bosh. He's not one for panic buttons, frowns or pessimistic observations. The glass tends to be half full of Mike's Hard Lemonade with him.
But not this time.
Bosh appears pissed. Losing by 10 points to the lottery-bound Pelicans is not okay. Losing seven of the last 11 games is not okay. Whenever the Heat falter, there's a tendency to just believe they'll get back on track. They're the Heat. They're champions. They're going to be fine.
Only this is different. The Heat are guaranteed to fall no lower than second in the horrific Eastern Conference, but their title defense is far from secure.
There are reasons so few teams have successfully completed a three-peat. It's beyond difficult, especially for the Heat, who have been to the NBA Finals for three consecutive years.
Complacency is a very real issue when you've experienced that kind of success. Sustaining that same us-against-the-world edge becomes tough when the whole world is expecting you to win, which leaves the Heat to find other sources of motivation.
Or maybe their current stretch of incompetence is something different entirely. Maybe it's not a motivation thing. Maybe it's an excuse thing, as LeBron James so eloquently put it:
"It's too many excuses; everything is an excuse," James bristled as he rushed through his postgame session with reporters before fleeing the locker-room scene as other Miami players were still showering. "We do something wrong, it's an excuse. We don't get a stop, it's an excuse. We turn the ball over, it's an excuse. What we're doing right now ain't good enough."
We've seen this version of the Heat before, when they play mediocre to below-average basketball, seemingly disinterested in the regular season. Each time they appear human, though, they embark on an out-of-this-world run, reminding everyone who they are and what they can do.
Faith in that happening again, like it has numerous times since 2010, could be constricting their potential. Whatever it is that has them struggling—injuries, lineup changes, intermittent lethargy, etc.—they need to find a solution soon.
The playoffs aren't that far away. Miami has been fortunate to this point because the Indiana Pacers are sucking wind as well. The Heat shouldn't want to enter the postseason with a sense of inferiority to anyone in the Eastern Conference, even the once-impressive Pacers.
If they don't figure this out, if they don't find a way to reclaim the kill-first mentality that brought them two titles in the first place, Bosh will inevitably be saying, "I told you so," as the Heat watch the NBA Finals unfold from the awkward, empty comfort of their own homes.
Dan Favale is a firm believer in the three-pointer as well as the notion that defense doesn't always win championships. His musings can be found at Bleacherreport.com in addition to TheHoopDoctors.com.