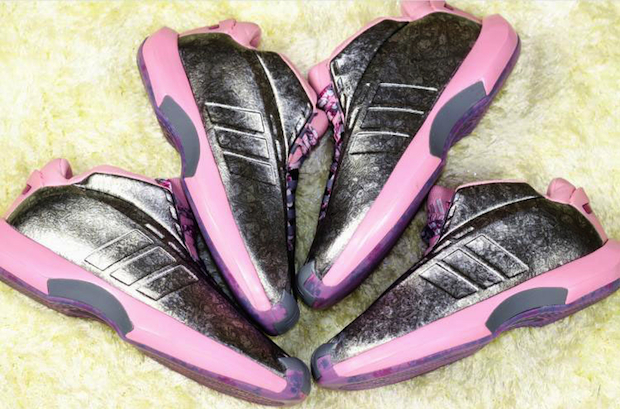 In the DMV area, the Cherry Blossom festival is always an event to look forward to. With John Wall having a career season in Washington DC this year, adidas whipped up this 'Cherry Blossom' colorway of the adidas Crazy 1(Kobe 1) Player Exclusive for John Wall.
Featuring a swirling, metallic silver upper with a pink inner lining, the 'Cherry Blossom' adidas Crazy 1 has unique accenting seen thru the pink, translucent outsole and has dope shoe laces as well.
When adidas released the Kobe 1 back in the year 2000 it might have been too-ahead of its time, but in 2014 this sneaker feels very appropriate largely due to the influx of re-releasing basketball kicks from over a decade ago as well as the current shoe design trend of using full synthetic uppers.
I am also a fan of the inspiration behind this shoe. As the story goes, Japan gave the United States thousands of cherry blossoms in 1912 as an act of peace and friendship.
Right now, there is no official release information about if adidas will release these or when we will see John Wall lace the 'Cherry Blossom' Crazy 1 shoe in an NBA game.