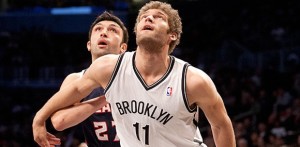 Brooklyn Nets owner Mikhail Prokhorov hasn't given up his team.
Meaning?
He's a far better man than I am.
Although the Nets have began the season 16-22, waffling in and out of the Eastern Conference's playoff picture, Prokhorov has yet to give up hope. His team was supposed to contend for a title following the trade for Kevin Garnett and Paul Pierce, and his expectations haven't necessarily changed in the wake of an atrocious start and excess of injuries.
From the New York Daily News' Stefan Bondy:
"Of course at the beginning (of this season), I wasn't jumping over the moon. But it's a sport. It's a procedure. And now the team is playing much better. So we're on the right way," he said, adding later about his championship guarantees, "I still think we have a chance to be a championship, if, of course, stars align. I think we like sport because, of course, it is unpredictable. So it's unpredictable, but possible."
Is this what we call almost-cautious optimism? Because while reserved, it seems pretty bold considering the team is currently down Brook Lopez and Deron Williams. And by "pretty bold" I mean "absolutely, what-is-Prokhorov-smoking bold."
The Nets have played better—much better—since the turn of the calendar, winning six of their first seven games in 2014. They've slowly, surely, brought themselves back into the Eastern Conference's playoff conversation and are only 3.5 games off the Atlantic Division-leading Toronto Raptors. So yes, there is cause for hope.
But a championship? I'm inclined to laugh hysterically.
There is a chance the Nets make some noise in an Eastern Conference known more for sing-shitty teams than actual basketball talent, but how far do you realistically see this team going? Wins over the Oklahoma City Thunder, Golden State Warriors and Miami Heat are all impressive. Convincing, if you will. But those are the types of teams Brooklyn will have to beat consistently the rest of the year, and then dethrone in a seven-game series.
Out East, there are really only two teams the Nets have to worry about, both of which are dangerous—the Heat and Indiana Pacers. If the Nets want to win the 2014 NBA title, that's their competition. Despite just beating the Heat, they're not even in the same league as Miami. Or Indiana.
Prokhorov disagrees:
"Our goal, we only have one goal, the championship. So I am very committed, and I will do my best in order to reach this," said Prokhorov, who also said he has no desire to sell the team he bought for $200 million in 2010. "I know there are a lot of rumors, a lot of discussions and that's good for the team, and I think you can criticize me as much as you care. But there is only one rule, and once I think the very famous film writer William Goldman, he was asked about making a good blockbuster. And he said, nobody knows nothing. Why? Because you need to do your job. Collect the best people. You need just to make all the deals you like, and to invite the best people and maybe hope for luck will shine on you, and the pieces come together. But time will tell. This is the procedure for how to win championship."
Maybe the Nets, these current Nets, who have looked like a different team of late, are finally coming together. Maybe they're actually good, better than any of us thought after dysfunction and lethargy left them 10-21 and fading fast.
Maybe they're even a championship team finally finding their identity.
Or, more likely, perhaps they're on a hot streak, one that could spark a turnaround. Just not one convincing enough to sell us on them as a legitimate title contender.
Dan Favale is a firm believer in the three-pointer as well as the notion that defense doesn't always win championships. His musings can be found at Bleacherreport.com in addition to TheHoopDoctors.com.