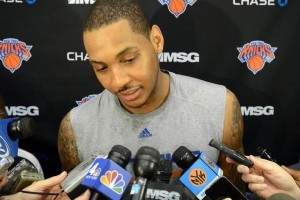 Drama, drama, drama.
You knew this season was going to be tough for the New York Knicks. Not 10-21 and tied-for-the-third-worst-record-in-the-Eastern-Conference tough, but tough enough.
Speculation was bound to ensue with Carmelo Anthony preparing to explore free agency for the first time of his career. You just knew it. But it wasn't supposed to be like this.
The Knicks have been worse than almost anyone could have imagined, leaving 'Melo with no shortage of reasons to want out. The losing, the financial situation, the losing, J.R. Smith's shot selection, the losing, owner James Dolan's band, the losing—you name something unfortunate, the Knicks have collided with it.
The latest has Anthony with one foot out the door, too. An anonymous former teammate of his told Frank Isola of the New York Daily News he thinks 'Melo will spurn the Knicks in free agency:
Carmelo Anthony's former teammate needed just a few seconds to ponder the question and deliver a definitive answer.
"I think he's leaving. I've played with Melo for a long time and he knows he can't win here. At this stage, all he wants to do is win. That's why he'll leave."
Uh-oh.
Love him or hate him, adore him or despise him, the Knicks need 'Melo. They've invested everything in him. Poorly constructed this current team around him. So long as he's in orange and blue, the Knicks are relevant. Give him that much.
If he leaves, the Knicks are screwed. First-round draft picks are scarce and they're not projected to have cap space until 2015. And what good is cap space if you don't have a resident superstar to sell prospective free-agent targets on? Spoiler: It does very little good.
So the Knicks, who can offer 'Melo roughly $30 million more than any other team this summer, cannot lose him. And they won't. I think.
Aside from the money, 'Melo doesn't have many promising options.
The <em>New York Post's Marc Berman notes that the Los Angeles Clippers, Los Angeles Lakers and Chicago Bulls all interest Anthony. But each destination is unlikely for different reasons.
Chris Paul's Clippers don't have cap space, and unless they're prepared to fork over Blake Griffin in any trade proposal (unlikely), the Knicks won't listen. Though the Lakers have cap space, playing alongside an aging Kobe Bryant and for a team coached by Mike D'Antoni, devoid of the cap space necessary to sign a strong supporting cast, isn't likely to interest him either.
Believe it or not, the Bulls could be the biggest threat, if they're a threat at all.
Not only does Berman say Anthony has immense respect for coach Tom Thibodeau, but amnestying Carlos Boozer would put Chicago under the cap. Problem there is the Bulls still wouldn't have enough to sign Anthony to a max deal. While they could try to dump Taj Gibson, their bench is thin enough and Jimmy Butler will soon be eligible for an extension.
Color 'Melo trapped, then. Unless he finds a creative way—forcing a trade?—to orchestrate his exit, the Knicks may be his only option. Not to mention there's the spiel he gave prior to this season.
"So one thing I would tell my fans: If you haven't heard it from me, then it ain't true," he told the New York Observer's Rafi Kohan.
Since we still haven't heard any of this from 'Melo himself, we best take all reports like these with grains of salts, double shots of whiskey and heaping spoonfuls of skepticism.
Dan Favale is a firm believer in the three-pointer as well as the notion that defense doesn't always win championships. His musings can be found at Bleacherreport.com in addition to TheHoopDoctors.com.