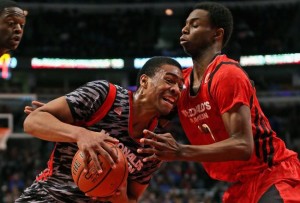 Well, duh.
The 2014 NBA draft class is expected to be the deepest pool of talent seen since 2003, when players like LeBron James, Carmelo Anthony and Dwyane Wade each made jumps to the Association. Naturally, teams holding first-round picks—and multiple first-rounders—are taking a long hard look at the most highly touted targets.
Especially the Celtics.
According to The Boston Globe's Gary Washburn, Celtics general manager Danny Ainge has spent ample time scouting top prospects Andrew Wiggins and Jabari Parker, among others:
The decisions facing Ainge will increase exponentially over the next few months. Should he deal Rondo? What to do with the rest of the roster? Is moving Gerald Wallace's contract even possible? What players will be the best fit from the well-regarded NBA draft.

Ainge has spent the past several months scouting players such as Jabari Parker, Joel Embiid, Andrew Wiggins, Marcus Smart, and Julius Randle, players who could impact the future of the Celtics. Ainge has stacked the organization with as many as 17 draft picks over the next five years; 10 could be first-round picks.
Interesting? Absolutely. Surprising? Of course not.
Slightly ironic? Most definitely.
Slightly ironic because Ainge is on record as devaluing the players in this year's class.
"If Kareem Abdul-Jabbar was out there to change your franchise forever, or Tim Duncan was going to change your franchise for 15 years? That might be a different story," Ainge told Sports Illustrated's Ian Thomsen in September. "I don't see that player out there."
Did he actually mean that? Doubt it. Sounds like deflection to me. Boston was associated with the most blatant preseason tank jobs, and downplaying the talent coming in could have been a defense mechanism.
Wiggins has been dubbed the second coming of LeBron—even though it's become clear early on he's not—and Parker has drawn comparisons to a two-way version of Anthony. Other prospects like Embiid, Smart and Randle are all intriguing options, too. And why? Because the draft hasn't been especially deep in recent years.
Don't get me wrong, there have been some phenomenal players. Kyrie Irving and Anthony Davis are two recent youngsters that come to mind. But drafts of the last 10 years have largely lacked the flair experienced in 2003. This summer is supposed to be comparable, which is more than most teams can ask for at this point.
At 15-29, the tanking Celtics—who say they're not tanking but most definitely are tanking—figure to be in play for one of the top spots. Ainge has also made it so they could have as many as three first-round selections this year. Because: wow.
On the off chance the Celtics land a top-five pick, or even a higher pick, they'll want to be schooled in who to select. Once surefire players are no longer locks. Wiggins, for instance, is no longer the guaranteed No. 1 selection. Parker and Embiid, and even some others, have steadily worked their way into the conversation.
Regardless, Boston is one of the more interesting situations to watch heading into this summer. The Celtics clearly aren't trying to win now, but they have a newly returned superstar in Rajon Rondo, which means so many variable are at play.
Could Rondo help the Celtics play themselves out of lottery contention? I mean, the Eastern Conference is that bad. Would Boston consider trading him just to increase the value of its draft pick? Would landing a top-five pick while holding onto him increase the likelihood he stays beyond next season?
That last question is a thinker. Add a guy like Parker or Wiggins or Embiid alongside Rondo, and the Celtics become a dangerous team. Boston also becomes a more desirable free-agent landing spot.
Picture it: The Celtics, flush with cap space in 2015, pitch a superstar on playing alongside Rondo and one of the previously mentioned three. The contract writes itself.
But that's getting ahead of the process. Right now, Ainge and everyone else within the Celtics have no clue when they'll be drafting, who they want to draft and who will be available when they do draft. And until they do, scouting talent is necessary.
Feel free to picture Parker, Wiggins or Embiid in Celtics green now, though, if you're feeling particularly whimsical.
Dan Favale is a firm believer in the three-pointer as well as the notion that defense doesn't always win championships. His musings can be found at Bleacherreport.com in addition to TheHoopDoctors.com.