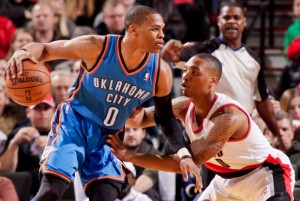 One of the biggest surprises of the season has been the top-seeded Portland Trailblazers. We even shone some light on them in our weekly THD Video series. 7-year veteran LaMarcus Aldridge has expanded his game, and, as a result, he's enjoying his best professional season. His running mate and partner in crime is 2nd year point guard—and last year's rookie of the year—Damian Lillard who is quickly becoming one of the best point guards in the NBA today.
The Blazers are 26-9, a game behind the San Antonio Spurs and tied with the Oklahoma City Thunder. The big question mark for this team is playoff experience. Other than veteran Mo Williams, who's played 41 playoff games, most players on the Blazers lack significant playoff experience. Aldridge is quickly becoming one of the best offensive power forwards in the NBA, averaging a career high in points and steals per game, 23.2 ppg, 11.0 rpg, and 1.0 spg.
Blazers 2013 Highlights:
But, Aldridge has as much experience in the post season as Nicolas Batum: 18 games. Wesley Matthews has played 16 playoff games (13.1 ppg). Blazers All-Star point guard Damian Lillard, who's scoring 21.6 ppg and dishing out 5.7 apg this season, has yet to play a game in the playoffs.
Will these up-and-coming Blazers defy their playoff inexperience?
Unlike the Blazers, the 27-9 Oklahoma City Thunder surely have plenty of playoff experience between Kevin Durant (54 games), Russell Westbrook (45 games), Kendrick Perkins (116 games) and Serge Ibaka (54 games). But, with the losses of James Harden and Kevin Martin, and Westbrook coming off another injury, the key to the Thunder's success may be their playoff inexperienced reserves.
Durant, 29.5 ppg, Westbrook, 21.3 ppg, and Ibaka, 13.9 (career high) are capable of carrying most of the load. Yet, the Thunder will need substantial contributions from the likes of Reggie Jackson, Jeremy Lamb, and Steven Adams if the Thunder are to make it back to the Western Conference Finals. Between Jackson, Lamb, and Adams, they have 11 games of playoff experience. All three players are putting up career highs this season, but it will be interesting to see if they can put up those numbers when the bright lights are on.
Oklahoma City Thunder v Minnesota:
Fortunately for young ballers like Lillard, there are many young players who have achieved greatness at the NBA level. Magic Johnson (with a great team and Kareem) won the title his 1st season. Bird led the Celtics to the title in his 2nd season. Dwayne Wade (with Shaq's help) won his first title in his 3rd season.
Who you got this season? Blazers or Thunder?