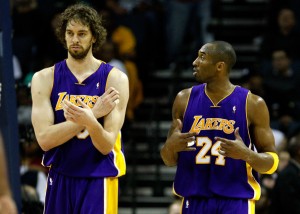 The writing has been on the wall for some time now, that potential Hall of Fame big man Pau Gasol could be playing his final minutes in a Lakers uniform this season.
It has been a glorious ride, as Gasol was rescued from basketball obscurity in Memphis back during the '07-'08 season, making an immediate impact and helping lead the Lakers to an immediate NBA Finals appearance, losing to the Boston Celtics in 2008.
In his 6 plus seasons in Los Angeles, Gasol has served as the perfect compliment to Kobe Bryant, winning 2 NBA Titles, making 6 Playoff appearances and being selected for 3 All Star Games, arguably being touted as the most skilled big man in the Association.
But his temperamental on-again off-again relationship with coach Mike D'Antoni may have finally reached an impasse following being forced to come off the bench last season and diminished returns this year, despite being one of the Top 10 highest paid players this season.
Now at the tender age of 33, Gasol is averaging a respectable, yet near career worst 14.4 ppg, 9.3 reb, and 1.3 blocks, but has struggles mightily on the defensive end, looking a step slow as numerous opposing big men have recently had career high scoring nights against him.
Kobe has long been a steadfast supporter of Gasol, a de facto blood brother if you will, mainly because they have been through so many wars together in the Western Conference trenches over the years, but even the legendary "Black Mamba" must come to the realization that all good things must come to an end one day.
With the team re-upping with Kobe for another 2 seasons, there probably won't be enough money available to resign the aging Spaniard, if the Lakers follow the plan and surround Kobe with another A list free agent to aid Kobe in his waning years.
It has come out earlier last week that Pau would consider a move back to Memphis, to team with younger brother Marc, putting his career in full circle.
Recently, there have been several rumors of a Pau Gasol for Tyson Chandler trade with New York as well as being mentioned in other deals in Houston, Boston, Toronto, and virtually every other trade rumor out there if you believe the hype.
Maybe the time has finally come for the Lakers to part ways with Gasol, pull the trigger and get something for him, before becoming a free agent this offseason?
Allen Moll has been a lifelong NBA and NCAA College Basketball fan who watches and studies games religiously, and coaches youth basketball in his native Lehigh Valley region of Pennsylvania. Allen has also provided content to Bleacherreport.com, Upperdeckblog.com, Cleveland.com, CSN Philly.com, Buckets Magazine, in addition to being a tenured NBA and NCAA columnist for TheHoopDoctors.com.