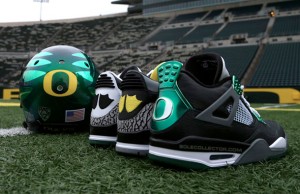 Recently, Oregon Ducks basketball players Ben Carter and returning starting PG Dominic Artis are ineligible to play in nine games this season after school officials were made aware that they sold Player Exclusive team apparel within the past year. Even though specific pieces of sportswear weren't named, it is widely believed that among what was sold by Artis and Carter were Player Exclusive pairs of Air Jordan sneakers; namely the recently unveiled 'Oregon Ducks' Air Jordan V which pictures of first hit the internet around the same time of the player violation announcement.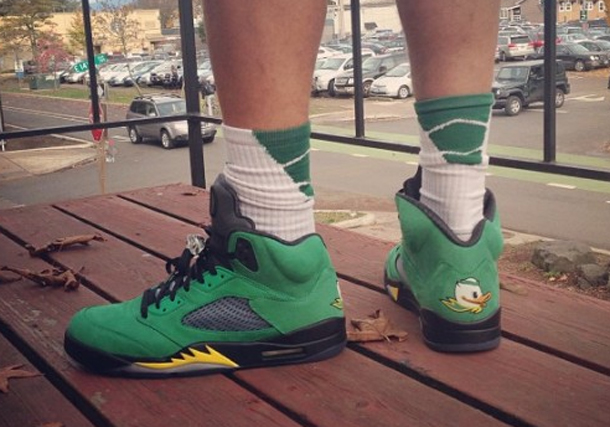 Air Jordan V PE – 'Oregon Ducks' On-Feet
NCAA bylaw 16.11.2.1 talks about players not receiving anything considered extra benefits because of being an athlete and the selling of sneakers given do not feel as if this instance should be classified as such. It is very doubtful that Carter or Artis would be wearing the Air Jordan V PEs on-court as history shows Oregon Duck players have rarely wore any of the Player Exclusive versions of previous Air Jordan Retro sneakers during basketball games; mostly just to-and-from.
I don't see any problem with Dominic Artis and Ben Carter selling sneaker or clothes given to them thru the Oregon athletic department. These are college kids who, despite the possible scholarship, are still young adults in college. Things like cafeteria swipes and breakfast cereal meals are apart of their day-to-day life despite the social status that comes with being a student athlete, so the allure of selling sneakers freely given to them for literally thousands of dollars per is very understandable.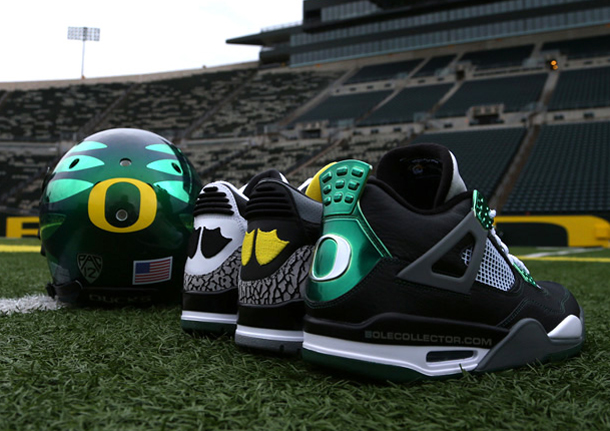 University of Oregon Set of Air Jordan Retros from 2012
It is also hard for me to stand behind the idea that it is wrong for someone to sell their property. I might feel different about this if the money was used for something harmful or illegal, but that remains to be seen. In these times when college student athletes are already under scrutiny of accepting gifts given unfairly, it seems to be time to rethink the system that already doesn't provide any type of compensation to these kids who make their respective schools millions of dollars thru what is essentially a free service.
It seems to be forgotten that getting Player Exclusive sneakers is something athletes earn the privilege of due to their hard work and athletic prowess. If Ben Carter and Dominic Artis would rather get monetary compensation as their reward instead of wearing their exclusive sneakers proudly, who is to say that is wrong?
Follow our Kicks section on Twitter & Instagram. Use #THDKicks to join in the conversation.

Ben Berry wrote this.
Add Ben to a Google+ circle of yours and follow his Twitter feed.