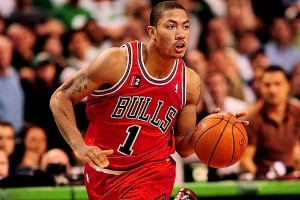 Derrick Rose is more explosive. Come get some.
Following the Chicago Bulls' preseason victory over the Detroit Pistons, during which he scored 22 points in 22 minutes, Rose was pretty forthcoming about how confident he is in himself and his team. First he reiterated that he's more explosive than he was before the injury, according to ESPN Chicago's Nick Friedell:
I think I'm way more explosive now. Like getting to the rim. I think I can take contact a little bit better. And as far as jumping-wise, I think I can jump even higher. They tested my vertical — I increased it by 5 inches. I just didn't show it yet because there's no need to.
Nothing we haven't heard before. Rose has been talking about his heightened explosion and vertical reach for quite some time. This is all very routine. Hearing him acknowledge that the rest of the NBA's players and teams will be gunning him for him, however, is not.
After sitting out the entire 2012-13 season, Rose says he knows that there will be a target on his back:
Rose said he understands that he will have a target on his back this season, both from fans who are questioning whether he can perform at a high level and from players who will test his every move. He appears to be ready for the challenge.

"I think every team, every player I play against is coming for me," Rose said. "Who don't want to make a name off me right now? I always think about that and take that into consideration when I'm going out there and playing."
Rose indicated the proverbial bullseye on his back was one of the driving forces behind his decision not to play last season. He knew there would be players waiting to test his every move, and he wanted to make sure he was mentally and physically ready to handle such pressures.
Thus far, he seems to be doing pretty well for himself. Save for some soreness in his left knee that kept him out of a game against the Washington Wizards, he's been moving pretty freely on the court and hasn't stopped attacking. That was one of the biggest questions coming in: Would Rose favor his injury?
http://www.youtube.com/watch?v=FWiqIlJjR7w
Fortunately for Chicago, he hasn't. There have been moments when he's hit the ground, but he's popped right back up. And he hasn't shown any fear with the ball in his hands. Relentless forays into the paint continue to be a staple in his offensive repertoire. As long as he's healthy, that part of his game isn't going anywhere.
Speaking of which, Rose is convinced the Bulls can win a title in 2014 if they stay healthy.
"Oh, yeah," he said, per Friedell. "That's the goal. That's our No. 1 goal is winning the title. We're not worried about anything else. We're not worried about what people say about us or what's going on on the outside. We're just about the Bulls and how good we can get every day."
On paper, Chicago has a pretty intimidating rotation. The addition of Mike Dunleavy especially spices things up on the offensive end, giving the Bulls a proven shooter they didn't have last season. Jimmy Butler's breakout postseason has also left people hoping for a strong campaign from him.
Staying healthy is the problem for Chicago. Always have been. Joakim Noah, Luol Deng, Taj Gibson, Kirk Hinrich and, to an extent, Carlos Boozer are all liable to go down with injury. Noah and Deng specifically, given the minutes they tend to play, wind up battered and bruised beyond comprehension most seasons. That's in addition to the risk Rose himself presents nowadays.
But if the Bulls are healthy, man, watch out. You have a motivated Rose with a chip on his shoulder (and target on his back), a rising stud in Butler and a core of resolute veterans, capable of stifling the most potent offensive attacks.
Healthy, the Bulls are a threat to Miami's Eastern Conference throne. Healthy, they're a contender.
Healthy, they're capable of winning a title in 2014.
Dan Favale is a firm believer in the three-pointer as well as the notion that defense doesn't always win championships. His musings can be found at Bleacherreport.com in addition to TheHoopDoctors.com. Follow @danfavale on Twitter for his latest posts and all things NBA.