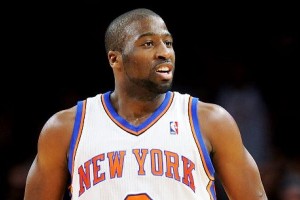 The New York Knicks were old last season. Really old. Historically old. And Raymond Felton knows it.
While at Macy's in Herald Square making an appearance on behalf of Under Armour, Felton pointed out that New York's roster was too old season and ultimately cost the team a shot at the title:
We're a younger team this year. Kurt Thomas, Rasheed, love them like brothers. [But] those guys were 38, 39, 40 years old. Once they got injuries, they're out and it hurt us last year. We've added Metta [World Peace], [Andrea] Bargnani, Kenyon [Martin] and Amar'e [Stoudemire] are coming back. Tim Hardaway [Jr.] looks great by the way. I've been most impressed with him. It gives us depth at that big spot and youth. Those guys are younger.

No knock to the guys we had last year. Those guys had incredible careers. I wish I could play that long. But we are young. That's what I'm saying. We're a younger team this year. We still got depth from last year, but we also have a younger bench. That's going to help us later in the season.
I'm sorry, but whenever you're talking about getting younger and Kenyon Martin in the same sentence you're getting ahead of yourself. Still, Felton is right—the Knicks are younger. But they're not exactly spry adolescents. They still have six players aged 30 or older—Tyson Chandler (30), Amar'e Stoudemire (30), Beno Udrih (31), Metta World Peace (33), Martin (35) and Pablo Prigioni (36)—and both Felton and Carmelo Anthony are 29. He might want to cool it with the "getting younger" bit.
The bigger problem, however, is Felton's perception of last season compared to the one ahead. If age cost the Knicks a chance to win a championship last year, they're going to have the same problem this year.
He talks of Rasheed Wallace and Kurt Thomas, but neither of them were integral parts of New York's game plan.
Early on, Sheed was valued for his defense and post presence, but the Knicks did just fine without him. Thomas' last hurrah was inspiring as anything—he played magnificently while injured beyond reason—but much wasn't expected of him either.
Felton may have been saying this year's docket is better equipped to log extensive minutes across the board; I'm not really sure. That would make more sense than his age quip, especially when he's going to loop Stoudemire, Martin and World Peace into the conversation. STAT will be on a minutes cap all season while World Peace and Martin can't be counted on to play 30-plus minutes a night either.
Despite what Felton says about last season and this year, age could still spell New York's demise. Injuries could overtake the team and obliterate the seemingly superior depth the Knicks have built. That could happen.
Or we could have a repeat of last year, when gaping holes that had little-to-nothing to do with age cost the Knicks in the playoffs. Against the Indiana Pacers, they couldn't score or rebound consistently. J.R. Smith couldn't hit a shot if his next contract depended on it, and 'Melo began to struggle under the weight of carrying the entire offensive burden. That's not on age alone—it's on the Knicks, on the way they were constructed
This season, they figure to be a more well-rounded contingent. But they also have serious flaws they'll have to combat. And age remains one of them.
Dan Favale is a firm believer in the three-pointer as well as the notion that defense doesn't always win championships. His musings can be found at Bleacherreport.com in addition to TheHoopDoctors.com. Follow @danfavale on Twitter for his latest posts and all things NBA.