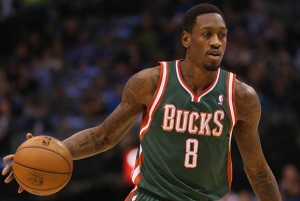 Larry Sanders wasn't always a favorite of the Milwaukee Bucks.
Per the Racine Jouranl Times' Gery Woelfel (h/t/ ProBasketballTalk) the Bucks wanted to cut Sanders roughly one year ago.
Larry Sanders ascent to being Bucks' highest paid player is remarkable. A yr ago some Bucks officials wanted to cut him.

— Gery Woelfel (@GeryWoelfel) August 28, 2013
Instead the Bucks kept him and he went onto average 12.9 points, 12.5 rebounds and 3.7 blocks per 36 minutes last season. Then, after bidding adieu to Brandon Jennings and Monta Ellis, Milwaukee rewarded him with a four-year extension worth $40-plus million.
As if you needed any more proof that the Bucks don't know what the hell they're doing…
Prior to last season, they never gave him more than 14.5 minutes a night to prove himself. Parting ways with him would've comprised making some unfounded snap judgments on their part.
Fortunately, they rode out the not-so-distressing wave. And what did they find? The player in which they plan to build their franchise around.
Talk about your drastic change of hearts.
Sanders' new contract isn't exorbitant. It's right in line with what he should be making, provided his production proves sustainable. Players who tower over the competition at 6'11" and can block as many shots as Brandon Jennings can miss are often compensated the way Sanders just was.
That doesn't mean he's the lone player Milwaukee should be investing its future in, yet it sure seems like they are. O.J. Mayo and Ersan Ilyasova are important to the team dynamic, but neither of them will be taking home $11-plus million annually in the coming years.
Once Sanders' extension kicks in (2014-15) he'll be the highest paid player on the Bucks, which is truly incredible when you consider they apparently wanted to cut him. At this point there really just aren't any words. Milwaukee has taken this relationship from one extreme (termination) to the next (glorification). And I'm not so sure either train of thought is fitting under the circumstances.
How could you not give Sanders another opportunity to prove himself last season? His minutes only declined after his rookie campaign, how was he supposed to improve as a sophomore?
It works both ways as well.
Why, after one season, is he being heralded as the future of this franchise? Because he was in the Defensive Player of the Year running? Because he can block shots? Grab rebounds? Because Milwaukee is confused? I know I am.
Again, Sanders deserved that money. Letting him hit restricted free agency wouldn't have been smart. He remains a sound an investment and a promising building block, and had he hit the (semi-) open market, some team would've swooped in with an offer well above what the Bucks intended to pay.
Confusion stems from this rapid ascent up the internal ladder, like Woelfel spoke of. The perception of Sanders now compared to one year ago, within his own locker room, is just absurd. Not ridiculous in its meaning now, but of the difference between today and yesterday. He simply exploded.
Though that attests to his development and, once again, shot-blocking prowess, it's also indicative of a Milwaukee team in flux. The Bucks really don't know what to believe. It seems to change by the year, or day.
Who knows, this time next summer, maybe Milwaukee will have flip-flopped once again. Maybe they'll make Gary Neal the face of the future.
Dan Favale is a firm believer in the three-pointer as well as the notion that defense doesn't always win championships. His musings can be found at Bleacherreport.com in addition to TheHoopDoctors.com. Follow @danfavale on Twitter for his latest posts and all things NBA.