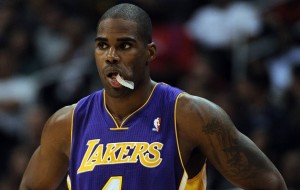 For Antawn Jamison, there was only the Los Angeles Clippers.
No really, there was no one else. At least that's what he says.
"In my heart I really didn't want to go anywhere else," he said, according to Eric Patten of Clippers.com.
Hopefully he didn't say something similar to the Los Angeles Lakers last year because we know how that turned out.
It does seem odd that he would say something so powerful about the Clippers. Not because they're the Clippers, though. Times have changed and the allure of playing in Los Angeles begins with them, not the Lakers. For now anyway.
What's odd is just how sudden yet drawn out this process was. The two sides tangled a bit previously, then all of a sudden they have a deal. Just weird.
Maybe it's just difficult to wrap my brain around because I'm not used to it yet. The Clippers being the toast of the town, that is. Very rarely have we heard players declare a burning desire to play for Donald's Sterling team over the years, so perhaps what I'm feeling is lingering skepticism.
"The only thing they're missing is a championship," Jamison said of the Clippers, via Patten. "That's the only reason why I'm here."
Now that makes sense, and doesn't feel weird. Jamison has been chasing championships for the last year. It's the reason he went from making $15-plus million in 2011-12 to under $1.4 million in 2012-13; it's the reason he signed with the Lakers in the first place. He wanted to win.
These Clippers are at an identical stage, in that they're chasing a ring. Chris Paul has made them contenders, but merely making the playoffs isn't enough anymore. They've failed to get further than the second round over the last two years, and want more. And after the offseason they've had, they're expected to do more.
Adding Jamison to a crop of new faces that already includes J.J. Redick, Jared Dudley, Darren Collison and Byron Mullens, and Doc Rivers, has elevated Los Angeles' ceiling considerably. Forget a first- or second-round exodus—the Clippers have the Western Conference crown in their sights.
To lay claim to such an honor, they'll have to make it past annual powerhouses like the Oklahoma City Thunder and San Antonio Spurs, in addition to rising young squads like the Houston Rockets and Golden State Warriors. The West is simply stacked. Some believe the balance of power has shifted back toward the Eastern Conference, but it hasn't.
Which is going to make it difficult on Jamison and his new team. They're equipped to contend, but so are other teams. Loads of them. Winning a title never comes easy, and the same currently goes for coming out of the West.
By some chance the Clippers do win the conference, the Miami Heat would await. Another team like the Chicago Bulls or Indiana Pacers or New York Knicks, or to a lesser extent the Brooklyn Nets, could be waiting too, but Miami's still the most dominant faction in that conference.
Do the Clippers have what it takes to beat the Heat? And the Thunder before them? Or Spurs? Or even Warriors and Rockets?
Jamison seems to think so; I have my doubts. But we'll reserve passing judgment until we see how the Wild Wild West plays out in the coming months.
Dan Favale is a firm believer in the three-pointer as well as the notion that defense doesn't always win championships. His musings can be found at Bleacherreport.com in addition to TheHoopDoctors.com. Follow @danfavale on Twitter for his latest posts and all things NBA.