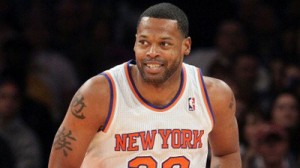 Marcus Camby was a part of that historic 1996 draft class and is one of the few still remaining. He was recently traded by the Knicks to the Raptors and the two sides settled on a contract buyout.
Because of his size and experience, Cam by is drawing interest around the league and has narrowed his choices.
The Miami Heat are looking to add another big man. Marcus Camby is a strong possibility.

Sources said Camby, who cleared waivers Sunday after having his contract bought out last week by Toronto, has narrowed his choices as a free agent to the Heat, Houston Rockets and Chicago Bulls. He will decide on a team in the next few days.
H/T: Fox Sports Florida