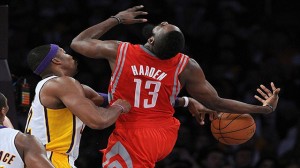 Dwight Howard's free-agency nightmare lives on.
After choosing the Houston Rockets over the Los Angeles Lakers, this should have all been over and done with. But like all things pertaining to the NBA's superstars, it isn't.
According to Adrian Wojnarowski of Yahoo! Sports, free-agent suitors—who weren't the Lakers or Rockets—tried to convince Howard that James Harden was Houston's version of Kobe Bryant:
n the final weeks and days and hours leading into Howard's decision, the most consistent negative recruiting pitch rivals made to him about Houston centered on Harden. In presentations and private conversations to Howard, Harden had been sold as a bad teammate and selfish player, multiple sources told Yahoo! Sports.

"He was told [Harden] would be another Kobe in his life," one source closely involved in the free-agent process told Yahoo! Sports. "It came from a lot of people, but never once from Dwight's mouth."

Houston was aware it was happening and worked to diffuse the campaign late in the process. "It was obviously competitive for Dwight's services, and maybe we were looking like the lead team," Morey told Y! Sports. "But not only were teams advocating for their own position, they tried to tear us down, too. I didn't have any issue with it, unless it became personal."
To clear, Mr. Daryl Morey, that seems pretty damn personal.
Referring to Harden as the next Kobe would normally be construed as a compliment. Like him or not, the Black Mamba is one of the best players to ever set foot on the hardwood, a five-time champion and future Hall of Famer.
Under these circumstances, that didn't matter. Dwight and Kobe's tumultuous relations was well documented during his one-year stint in Hollywood and part of the reason Howard spurned the Lakers in the first place was to presumably escape the shooting guard's clutches.
Had this been a "Kobe Bryant is too old" thing, then those sales pitches would have meant little. I could understand Howard not wanting to play next to someone pushing 35 for the next three or four years, or wanting to have his own team. That makes sense. But that wasn't what this about. Not entirely, anyway.
The Rockets aren't Howard's team, and I don't care what anyone says. Even if Harden handed Howard the metaphorical keys to the franchise during Houston's sales pitch, the team remains his. He was the first superstar to join the Rockets, to return them to relevancy, to bring them back to the playoffs. This is his team. And that's how it's going to stay.
Howard has to know that. He's not stupid, or at least that's what I would like to believe. He has to understand that Harden is more important, more vital to Houston's success than he is. Which is why I'm surprised those tales of Harden turning into Kobe didn't scare him.
Usually, Howard is portrayed as an impressionable mind who can be swayed by the will of others. A few months ago, I would have had him pegged as a member of the Dallas Mavericks or Atlanta Hawks or Golden State Warriors if I would have known other teams were prepared to play the Kobe card for both the Lakers and Rockets. Alas, it appears I'm mistaken.
Despite such warnings, however farce, Howard elected to sign with the Rockets anyway, likely going on the belief that Harden isn't going to be the next Kobe. And that may be true. Not because Harden isn't talented enough, but because Dwight is at least his senior. It is Harden who has been in Houston longer, but Dwight is entering his 10th season in the league. He's the proven veteran.
It's going to be interesting to see how this plays out, to see how well Harden and Howard mesh once the season starts. Harden clearly isn't as outspoken or overwhelming as Kobe, but the offense runs through him just like it did the Mamba. Is Howard prepared to accept that he's still second best?
Stay tuned.
Dan Favale is afirm believer in the three-pointer as well as the notion that defense doesn't always win championships. His work can be found at Bleacherreport.com in addition to TheHoopDoctors.com. Follow @danfavale on Twitter for his latest posts and all things NBA.