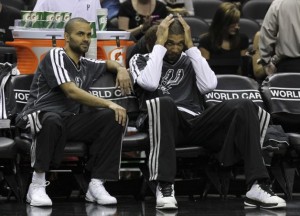 The San Antonio Spurs' Game 3 victory of the Miami Heat may have came at a price.
Tony Parker suffered a hamstring injury in San Antonio's 113-77 rout of Miami, leaving the game during the third quarter. He eventually returned, but the hammy was still clearly bothering him.
According to Marc J. Spears of Yahoo! Sports, Parker is unsure if he will be able to play Game 4 as he prepares to have an MRI:
Parker suffered a right hamstring injury during the Spurs' 113-77 rout over the Miami Heat in Game 3 of the Finals. He said he's uncertain about the seriousness of the new injury and whether he will be able to play in Thursday's Game 4. He has an MRI scheduled for 11 a.m. ET Wednesday.

…

"I'm trying to stay positive," Parker said. "Hopefully … I think it was just tight, a little cramp, a little bit of everything and I'll be fine. I'll wake up tomorrow and I'll be fine, that's my hope. I'll just try to stay positive."
Spurs coach Gregg Popovich took Parker out of Game 3 for good with 10:33 remaining in the fourth quarter. Parker described the injury as "really weird" and said he couldn't remember when or how he suffered it.
Losing Parker, even for a game, would be a huge blow for the Spurs. He finished with just six points on 2-of-5 shooting in Game 3, and San Antonio still won, but he was instrumental in orchestrating the team's pick-and-roll during the first half, where he picked up seven of his eight assists.
Danny Green (27 points) and Gary Neal (24) had the performances of their career, diminishing the significance behind Parker's struggles. That said, when Parker had a mere 13 points on 5-of-14 shooting in Game 2, the Spurs were pummeled. San Antonio can't count on its role players to dominate the way they did in Game 3 every night, even at home.
So the Spurs are left crossing their fingers. Procuring a convincing Game 3 win gave them a 2-1 series edge over the Heat, leaving them two victories away from their fourth NBA title of the Big Three era. To get those two wins, the Spurs are going to need Parker in some capacity.
"We'll see," Parker said. "…We'll have an MRI tomorrow, and hopefully it's nothing big and it's just a little cramping, or it got tight on me. It was just a weird feeling, and I just wanted to make sure the doc thought I was OK."
Parker was apparently in good enough shape to return during the third quarter, but he played less than two minutes in the fourth. San Antonio was up big and didn't need him to close out the night, but what if this had been Game 1? It was Parker's shot that clinched a victory over the Spurs. What if San Antonio is put under similar duress in Game 4? And Game 5?
The Spurs need a closer. Parker is that closer. Numerous occasions have seen him take over with the game on the line, in the playoffs especially. If he's a no go, who are the Spurs to count on? Neal? Green? The struggling Manu Ginobili?
Get real.
Ginobili may wind up being a future Hall of Famer, but his presence on the court is waning. He had just seven points to go with six assists in Game 3 and he's not navigating the floor with as much ease on the last few games. Even before San Antonio's week-and-a-half rest following the defeat of the Memphis Grizzlies, Ginobili wasn't playing up to snuff. Not consistently anyway.
There's always Tim Duncan to consider. You can never be too down on the greatest power forward to ever play the game. At the same time, he's not exactly equipped to shoulder the type of offensive burdens Parker has. He can create his own offense and is good enough to make plays for his teammates as well, but it's Parker who ties it all together for the Spurs.
On any given night, they may not need him to have a demonstrative performance. Again, see Game 3. Mostly though, they need their All-Star point man on the floor and playing like an All-Star point man. No exceptions. Well, that's not entirely true. Game 3 was an exception. But championship teams aren't built upon exceptions.
"It is really up in the air," Parker said of his status. "I have no idea."
The Spurs are hoping he gains some perspective on the injury soon, otherwise they'll have no idea if they're capable of finishing the upset of Miami without him.
Dan Favale is a firm believer in the three-pointer as well as the notion that defense doesn't always win championships. His musings can be found at Bleacherreport.com in addition to TheHoopDoctors.com. Follow @danfavale on Twitter for his latest posts and all things NBA.