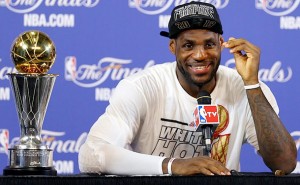 LeBron James is an NBA champion. Again.
Nine years went by before he was able to win his first title. Now he has two in as many seasons. It doesn't get any better than that.
But some will speculate that it does, that it has to. Basking in the glory of obtaining his second ring and NBA Finals MVP isn't a permanent Nirvana. LeBron will be brought back down to earth, by the many critics who will never cease their attempts to tarnish what he's done.
That's why he wins. For those critics, the ones that didn't think he'd win his first championship with the Miami Heat. Or the second. The same ones that will continue to doubt him even now.
"Please continue to motivate me," LeBron begged of his critics afterward, according to Ken Berger of CBS Sports. "I need you guys."
Two championships in, LeBron shouldn't need his critics because he shouldn't have them. Not to the extent that he does.
Spurning the Cleveland Cavaliers forever manipulated how pundits perceived him. He's still a villain, no matter how much older and wiser he has become. He's still entitled, no matter how much humility he exudes. Anything less than championships are still a failure, no matter how many he wins or how much he improves as a player.
Championships. That's all that will quell the cries of his cynics. And even then, that blissfully soothing silence won't last very long.
"He'll get a lot less (criticism) this summer," Dwyane Wade said of LeBron, according to Jeff Zillgitt of USA Today. "When the season start up again next year, it's on again. It's the ebb and flow, the highs and low of life."
It's the price of playing in South Beach, next to Wade and Chris Bosh. Even when they don't play well, this is the situation LeBron chose. For better or worse, this is the plane he's piloting and their will never, ever be a chance to make excuses in South Beach.
Remaining in Cleveland wouldn't have left him immune to scrutiny. Not even close. His ring-less exploits were well documented while he was there as well. Upon joining the Heat is when it got worse, so much worse. To the point of no return.
Promising a dynasty before the ink even dried on his contract, LeBron set a near impossible standard for himself. Failing to build that dynasty would make LeBron a liar, a, well, failure. It still would. Forget about the first title. And the second. Three is what it's going to take LeBron to make good on his pledge.
People will remember the promise. They'll continue to hold it against him, to use it to argue against him. That's just how it's going to be unfortunately.
"I know the grass isn't always going to be green," James admitted, "and there's going to be trials and tribulations."
At present, there is only green grass. That second title. Nothing else matters. Not his promise, his baseless critics or the perpetuation of an unjust bar he'll always be held to. There is only the reality that he's a two-time NBA champion.
For now. His divinity will be short lived in the eyes of those who expect more, who demand more. Who won't let him enjoy this for much longer. Which his perfectly fine with LeBron.
Those are the ones he feeds off. Those are the ones he'll continue to try and prove until wrong there's nothing else left for them to say.
Nothing else left for them to take away from.
Dan Favale is a firm believer in the three-pointer as well as the notion that defense doesn't always win championships. His musings can be found at Bleacherreport.com in addition to TheHoopDoctors.com. Follow @danfavale on Twitter for his latest posts and all things NBA.