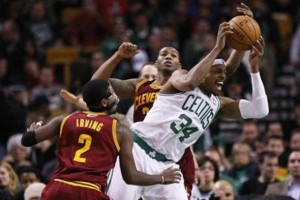 The NBA season is behind us, so now we shift our focus to the this week's draft. This draft isn't exactly stacked, so owning the #1 pick may not be as big of a deal. Therefore, the Cavs have been rumored to be willing to move that pick for the right price.
However, the latest rumor involves the Cavs second round picks and Paul Pierce. It almost seems like a certainty to Pierce will be moved (but you never know), but is this where he'd like to go?
The Cavs have likely spoken to the Celtics about small forward Paul Pierce's availability. The latest rumor is the Cavs offering their two second-round picks for the 35-year-old Pierce. Pierce's $15.3 million contract for next year would become guaranteed if he's dealt.
H/T: News Herald