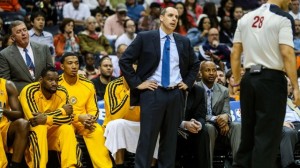 By now, you've seen how last night's Indiana Pacers – Miami Heat game ended. On the final two possessions for Miami, in a one possession game, Pacers coach Frank Vogel removed 7'2″ shot-blocker, Roy Hibbert from the game for matchup purposes. And on those two possessions, LeBron James finished at the rim. One of which, was the game winner.
Vogel had just about everyone questioning his decision making (except Charles Barkley, who doesn't always like to acknowledge when he's wrong) including Steve Kerr and Reggie Miller during the telecast. Removing Hibbert at that juncture of the game appeared to be the exact opposite of what mad sense.
Vogel's decision was a head-scratcher to say the least, but it appears as if he is aware of that now. Hindsight is 20/20 and it sounds like he knows he made a mistake.
As we found out after the game, he made the move because he didn't want Chris Bosh to pull Hibbert away from the basket by spreading the floor. So you take him out of the game all together? Sounds contradictory. To make it worse, Vogel just saw LeBron score rather easily on the prior possession. In my opinion, this loss is squarely on Vogel's shoulders.
Following the game, he made the following statement regarding how he managed Hibbert, according to TNT's Rachel Nichols: "I would say we'll probably have him in next time."
You think?