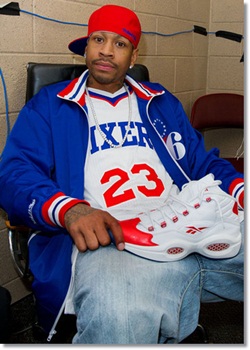 It's hard to believe that only a few short years ago, "The Answer" Allen Iverson, was breaking ankles, destroying opposing guards, and scoring buckets at an alarming rate. After all, he did score more than 24,000 points in his NBA career and does hold the 6th highest scoring average (26.7 ppg) in league history.
But unfortunately, his days of killer crossovers and winning MVP awards are long gone as most talk surrounding Iverson now tend to tilt towards the negative, dealing with potential bankruptcy, divorce and alcoholism, and the seemingly never-ending hope of an NBA comeback.
It's hard to believe that both Iverson and Kobe Bryant were selected in the same blockbuster 1996 NBA Draft that also included Ray Allen, Steve Nash, and Stephon Marbury, considering that despite a recent Achilles injury, Bryant is still going stronger than ever and A.I. is venturing to both Turkey and China looking for work.
It depends on who you ask, if the Iverson story after the NBA is either a tragedy or a case of bad karma, as the stories of late night Atlantic City casino runs, missed team events, and hung-over practices are almost as legendary as his 4 scoring titles and 50 point scoring barrages.
A recent, well written article in the Washington Post tackles just these issues as A.I. is both a hero and inspiration to some and a deadbeat father and bad husband to others.
The piece is an excellent read for any fan of Iverson, as it begins telling a story from late March as A.I. made a return trip to Philly to endorse his very own Allen Iverson Bobblehead night. While the crowd in attendance rose to their feet as the PA announcer began his patented introduction," A 6 foot guard from Georgetown….." The real story was that Iverson missed his initial flight and arrived at the arena at 7:59 for the 8 PM nationally televised game and was rushed into the arena just before tip-off. Guess times don't change…….
Another excerpt included a tally and dizzying account of trying to balance he and his former wife's checkbook, after A.I. treated some of his "posse" on a one night spending spree in 2011:
"According to a bank statement submitted in the divorce, the couple's checking account was overdrawn by more than $23,000 in July 2011. In a single day, $23,255.36 was deducted – at a diamond store, a hat shop, a steakhouse and a hotel."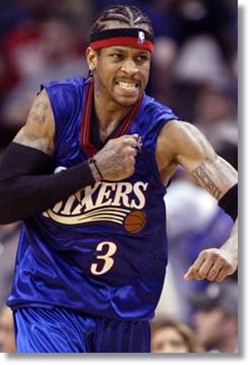 Yet another account tried to put in perspective his vast salaries earned during his playing days:
"Basketball was Iverson's sanctuary, and he signed huge contracts: a six-year deal in 1999 worth $70.9 million and, four years later, a new agreement worth $76.7 million. Reebok signed him to a huge endorsement deal, including a deferred trust worth more than $30 million, a lump sum he can't touch until he turns 55."
The kicker is that Iverson's ex wife Tawanna was awarded half of the $30 million in his recent divorce settlement.
It also was interesting to find out that his former head coach Larry Brown, now the head man at SMU, along with former Sixer teammates Eric Snow and George Lynch, as well as former 76ers President Pat Croce, and even former mentor and Georgetown coach John Thompson III have had little to no contact with the former iconic, game-changing All Star.
It's both an eye opening and cautionary tale that should be taught to every young player entering the Association, as Iverson unbelievably has made more than $200 million during his career and as we come to find out in the article, he now doesn't even have money for a cheeseburger.
I'd give Allen some money for a cheeseburger.
It's rare that a player of his talent, accomplishment, influence on the game, and even pop culture looks to have such an unhappy ending. He's a warrior, a future 1st ballot Hall of Famer, and pound-for-pound the toughest NBA player we've ever seen. I can sum up his story up in 5 words…
"He deserves a better ending."
Source: Washington Post
Allen Iverson Career Mix:
Allen Moll has been a lifelong NBA and NCAA College Basketball fan who watches and studies games religiously, and coaches youth basketball in his native Lehigh Valley region of Pennsylvania. Allen has also provided content to Bleacherreport.com, Upperdeckblog.com, Cleveland.com, CSN Philly.com, Buckets Magazine, in addition to being a tenured NBA and NCAA columnist for TheHoopDoctors.com.