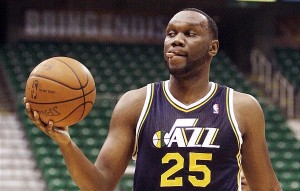 It's a common belief that the Utah Jazz are going to deal one or both of Al Jefferson and Paul Millsap, and the latest has the San Antonio Spurs making a push for the former.
According to Chris Sheridan of SherdianHoops.com, San Antonio has emerged as the frontrunner to pry Jefferson away from Utah:
The San Antonio Spurs are the front-runners to land Al Jefferson in a trade with the Utah Jazz – and they are frontrunners like Secretariat was in the 1973 Belmont Stakes.

Here's why, followed by a how.

"Those teams are practically incestuous, they are on such good terms internally," one NBA source told me Wednesday.
Chastise the "incestuous" comment all you want, but it has some merit. Spurs assistant general manager Scott Layden left the Jazz just before this year after spending a few seasons as an assistant coach for Utah, and former San Antonio assistant general manager Dennis Lindsey is now working with the Jazz's general manager Kevin O'Connor.
Was that a enough general managers for ya?
Good. Moving on from the general manager party, though, the deal in question arguably makes plenty of sense for the Jazz. They run the risk of losing Jefferson during free agency without receiving anything in return for his departure. The Spurs can offer them draft picks along with a package built around point guard Patty Mills, center Tiago Splitter and the expiring contract of Stephen Jackson. As far as capitalizing off departures go, Utah could do a lot worse.
The Jazz are known to need help at point guard and Mills has provided some productive minutes off the bench in San Antonio. Splitter has become a two-way gem, and would be a great backup to Enes Kanter, who becomes the starting center in Jefferson's absence. And the draft picks are, well, draft picks.
For the Spurs, such a deal is slightly out of character. San Antonio isn't known for making big, mid-season moves, but with the latest injury to Tim Duncan, it's difficult, if not impossible to fault their logic here.
Jefferson is currently averaging 17.1 points and 9.5 rebounds per game, and while his defense could present some issues, he's a fairly deft passer for someone his size. He's also no stranger to playing alongside another big (see Millsap, Kanter and Derrick Favors) and given Duncan's history of success next to David Robinson, spacing isn't an issue for San Antonio.
I do wonder, however, if Jefferson is the right fit for the Spurs' uptempo offense. He's just 28, but he doesn't navigate the floor as well as Duncan or arguably even Splitter
Still, I'd be surprised to see San Antonio pass on the chance to acquire another star-caliber talent in Jefferson. His presence in the post stands to take a Spurs team with the best record in the NBA from threatening championship contenders to unbeatable assailants.
I understand that the if it's not broke, you're not supposed to fix it. But are the Spurs really supposed to pass up the opportunity to try and make it better?
Dan Favale is a firm believer in the three-pointer as well as the notion that defense doesn't always win championships. His musings can be found at Bleacherreport.com in addition to TheHoopDoctors.com. Follow @danfavale on Twitter for his latest posts and all things NBA.