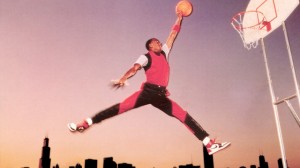 You don't have to be a basketball fan. In fact, you don't even have to be a sports fan. But if you have on a pair of Jordans, you're considered cool. Jordans have forever re-written the sneaker game to a level that will never be approached. And even though he's retired, Jordan Brand set a revenue record in 2012, proving the brand is as strong as ever; even though Michael is eyeing his 50th birthday.
But back when Jordans were being released on an individual, annual basis (before multiple Retro releases became a thing) the kicks had different meaning. Far too often these days, you hear of violence and criminal behavior being applied by consumers to get their hands on Jordans. But as I recall coming up, and as a friend the same age confirmed to me, "Jordan weren't that serious when we were in school. Either you had them or you didn't. Simple as that."
Of course, that's no longer the case.
But what if this never happend? What if Jordan never signed with Nike?  Would the shoes still be as powerful? Perhaps, but we'll never know.
As ESPN's Darren Rovell explains, if Michael had it his way, that was nearly the case. He wanted to wear adidas, but they never offered him a contract.
All Michael Jordan wanted to wear was adidas in the NBA. 

But adidas wasn't making an offer. It wasn't that they didn't think Jordan was worth anything; they were just caught at a bad time. After company founder Adi Dassler had died in 1978, his wife, Kathe, took over the business, but she had her son, Horst, and her four daughters each running separate divisions.

The husbands of the daughters also were closely involved, which didn't make things easy. By the time of the Jordan negotiations, tensions were high and thoughts of a succession plan were of top priority as Kathe was not in good health. She died later that year.

"They were definitely in a state of flux," said Frank Craighill, who represented Horst at the time. "It wasn't an easy thing to split."

Jordan was extremely disappointed.
The rest, as they say, is history. Michael Jordan and Nike made the perfect marriage and the brand will never die. Even though the most loyal consumers today never saw Michael play.
One of the most interesting nuggets I found in Rovell's piece on ESPN.com is that Nike had benchmarks in their deal with Jordan that he had to adhere to.
In order to protect themselves, Nike had a clause in Jordan's deal that said if he didn't accomplish one of these three things — win Rookie of the Year, become an All-Star or average 20 points per game — in his first three years, it could end the deal two years early.
I wonder what would've happened if Michael didn't achieve those during the allotted time, but still wound up being as great as he was.
Kevin Burke of The Kevin Burke Project brings provocative, thought provoking content about basketball as only he can. Kevin also hosts The Hoop Doctors weekly podcast show, which you can subscribe to for free on iTunes. Follow Kevin on Twitter and Facebook