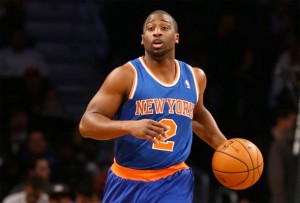 Raymond Felton got off to a hot start as PG for the Knicks who boasted the best record in the East during the early going of the season. But he has missed significant time of late due to a broken finger. In his absence Jason Kidd assumed most of the ball handling responsibilities.
But it looks like the Knicks starting lineup will be back in action as Felton is supposed to return this weekend:
Felton, who fractured his pinkie on Christmas Day, was cleared Tuesday to dribble, shoot, pass and receive passes without wearing a brace. 'Basically, I can use my right hand again,' Felton said. He hasn't been cleared for contact and practice, but he could be by Friday. If all goes well, it's unclear whether Felton's return will be Saturday, Sunday in Atlanta or next week. The Knicks' doctors will make that decision. Felton was expected to miss four to six weeks; the Knicks are 5-6 without him. 'If it's up to me, I'll play Boston [on Thursday],' Felton said.
H/T: Newsday