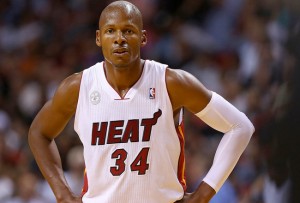 Ray Allen remains one of the NBA's best shooters, but we may not get the opportunity to bear witness to such talents for much longer.
Though the 37-year-old Allen signed a three-year pact with the Miami Heat, the next two are both player options. Contracts never prevent players from retiring in the first place, but knowing that his contract and, subsequently, his career only continues if he wants it to makes the decision all the more easier.
But surely the shooting guard with the golden touch isn't ready to call it quits. He's still shooting 46.8 percent from the field and 43.2 percent from downtown, the seventh-best mark in the league.There's no way he's on the verge of walking away.
Or is he?
Per Gery Woelfel of the Racine Times Allen may be closer to retirement than we think:
The old saying, "Once a shooter, always a shooter" definitely applies to Ray Allen.

Even at the tender age of 37, Allen remains unequivocally one of the elite shooter in the game. Just check his 3-point shooting percentage this season: It's .432 — the seventh-best in the league.

Yet, while it appears Allen still has more than fumes in his tank, the Miami Heat reserve guard acknowledges he may be closer to his career finish line than people think.

"I don't know when I'll retire," said Allen, who began his pro career in Milwaukee in 1996 and spent six-plus productive seasons with the Bucks before being dealt to Seattle. "I'd like to get through the year first. I feel great; my body feels good. I just got to get through.

"I'm at a point where I've been pretty successful and I've gotten to the point where I really understand the game and how to play it.

"But I'm not going to be that guy who just hangs on. At some point, I can let it go."
Allen, a 10-time All-Star and future Hall of Famer, is being paid $3.09 million this season. He has a player option for next season at $3.2 million.

But Allen said that's hardly a slam dunk he'll play beyond this season, that this could indeed be his farewell season.

"It's possible, yeah," Allen said. "Who knows what's going to happen over the course of the summer? I have two years left on my contract. We'll see how it goes."
Surprised?
Of course we are, but perhaps we shouldn't be.
Allen didn't leave the Boston Celtics because he loves the Miami Heat or was jealous of the bond LeBron James and Dwyane Wade share, he left because Miami was in a position to win a title.
Yes, he was unhappy with his role as a mere spot-up shooter in Beantown, but that wasn't enough for him to spurn the very team and city with which he captured his one and only NBA championship. No, this was about winning his second title, and the Heat presented a much better opportunity to do so.
To that end, don't be surprised if Allen retires after this year. In fact, after his most recent comments, should the season culminate in another Miami championship, maybe we should guarantee it.
Again, Allen is 37, and we often forget that. He moves about the court so seamlessly, it's as if he's still 25. But he's not. He's an aging wing with more than 16 years worth of professional burn on his body.
It's easy to look at his numbers for the season and conclude he's got plenty left, and the truth is he probably does. Bear in mind, however, that he's averaging a career-low in minutes played (25.5), field-goals attempted (8.1), assists (1.7) and points (11.2) per game. That's not reminiscent of the Allen of old, but rather, an old Allen.
By no means am I questioning Allen's continued ability to remain effective—though he has become a defensive liability—but we must understand that when he joined the Heat the way he did and under the contract he did, the stage was set for him to leave. And soon.
There's nothing tying Allen to the league beyond this season, especially if the Heat repeat as NBA champions. He won't look on paper and see that he's supposed to return, so he might as well. He'll see a player option, which is essentially an option for him to continue his career or not. That's much different, because having that contractual freedom allows him to leave the game on his own terms in the most absolute of senses.
If Miami fails to win another title this year, there's no doubt in my mind that Allen will return to the sidelines. He wants that second ring and 17 years into his career, he remains as competitive as ever.
Should they win, though?
Well, then I make no guarantees and neither does Allen.
Why?
Because I get the feeling he's not ready to offer an answer we're not ready to hear.
Dan Favale is a firm believer in the three-pointer as well as the notion that defense doesn't always win championships. His musings can be found at Bleacherreport.com in addition to TheHoopDoctors.com. Follow @danfavale on Twitter for his latest posts and all things NBA.