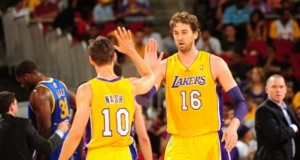 The saga that is the future of Los Angeles Lakers forward Pau Gasol continues.
Rumors have begun swirl, most of which state that the Lakers are interested in dealing the struggling Gasol. But regardless of whether or not said reports hold any validity, trading the Spaniard may not be an option for Los Angeles.
According to Comcast NBA Analyst Ric Bucher, the Lakers made a promise to Steve Nash before he was dealt to Hollywood that they would not trade Gasol:
Source: Ignore any and all trade talk about Pau Gasol because the Lakers landed Steve Nash by promising
him he would get to play with Gasol. Nash made it a prerequisite for passing on offers from Toronto and the Knicks that Pau would be around, the source said. Such prerequisites from an incoming star aren't that unusual — Chris Paul made similar personnel demands as part of his agreement to be dealt to the Clippers. (In Paul's case, he wanted assurance that LAC would do whatever was necessary to retain restricted FA DeAndre Jordan.) Conceivably, once Nash gets back and actually plays with Gasol, the Lakers could continue to struggle and Nash re-thinks his position. But as of right now, one of the enticements that brought Nash to LA was the big Spaniard and the organization would have much bigger problems than they already have if they backtracked on their promise to keep Gasol in the fold.
Wow. Though requests such as Nash's are not unprecedented, it is still shocking to see someone in Gasol's corner for a change. And believe me, that's huge.
Currently, with the Lakers teetering between mediocrity and oblivion, Nash is considered the one that can "save" them. On a roster that desperately needs someone to keep everyone in check, to keep everyone aggressive, Nash is a sign of hope. And if they wants Gasol to stay, the Lakers would be foolish to go against his will.
No, Nash isn't the type of athlete to raise hell if things don't go his way, but if you're the Lakers, you don't want to get on the wrong side of one of the best point guards in the game, the same point man who you're counting on to salvage your season.
But what if the Los Angeles deals for someone Nash approves of? What if the Lakers attempt to bring the Amar'e Stoudemire rumors to fruition? After all, he and Nash played together for years, and experienced plenty of success. Why wouldn't Nash want to reunite with the him?
Well, as Bucher notes, Nash had the opportunity to play with Stoudemire this season when the New York Knicks made a surprising push for his services, yet he ultimately chose the Lakers. And subsequently Gasol.
For those who keep bringing up, well, what if they dealt Pau for Amare. Stop. Nash could've played w/Amare. He wants to play w/Pau.

— Ric Bucher (@RicBucher) December 5, 2012
That's important. Not just because Nash seemingly chose Gasol over Stoudemire, but that he chose Gasol at all. This isn't a request to be taken lightly. This is a request from the player that knows how to run Mike D'Antoni's offense from the inside and out. He's the one that should be able to keep Dwight Howard offensively relevant on a consistent basis. He's the one that can turn the Lakers' season around.
As well as the one that came to Tinseltown under the impression that he would be playing alongside Gasol.
Meaning the Lakers can't even begin to truly consider trading Gasol until Nash has actually had the opportunity to play with him.
Dan Favale is a firm believer in the three-pointer as well as the notion that defense doesn't always win championships. His musings can be found at Bleacherreport.com in addition to TheHoopDoctors.com. Follow @danfavale on Twitter for his latest posts and all things NBA.