September 18, 2012 – The Hoop Doctors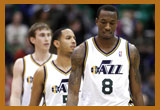 Josh Howard wants to date the Utah Jazz, and the Utah Jazz want to be dating Josh Howard. Match made in heaven right? Not so much.
The Jazz have been signing players at a rapid pace this summer and have run into trouble with their 15 player max roster. Trouble being they are already at the 15 players, and have yet to come to an agreement to re-sign free agent Josh Howard.
Howard has recently received quite a bit of interest from Charlotte, Chicago, and notably San Antonio. But can he somehow squeeze his way into Utah's jammed up roster….
There's mutual interest between Howard and Utah. He exceeded expectations during the 2011-12 campaign, is highly respected by management and coach Tyrone Corbin, and Howard spent part of his offseason working out with former Jazz teammates in Santa Barbara, Calif.

The chances of him re-signing with the Jazz have only become slimmer during the last few weeks, though. Utah is stacked at small forward with Gordon Hayward, Marvin Williams, DeMarre Carroll and Jeremy Evans expected to compete for time at the position. And the Jazz signed 2012 second-round pick Kevin Murphy on Friday, which brought Utah's roster to 15 players — the maximum allowed by the NBA once the regular season begins.(via)