April 6, 2012 – Allen Moll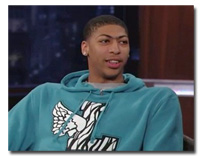 Similar to what we have seen in NBA circles with Jeremy Lin and the Lin-sanity craze over the past few months, the next big thing we will surely be bombarded with leading up to this year's NBA Draft is the "Fear the Brow" movement surrounding reigning NCAA Wooden Award winner and NCAA Champion Anthony Davis of the Kentucky Wildcats.
While Lin's breakout season was cut short due to injuries, Davis is just beginning to scratch the surface of his superstardom as he not only led the nation in blocked shots, breaking the NCAA's all time mark, but is universally projected as the #1 overall selection in June's NBA Draft.  He was named Most Outstanding Player at the Final Four and will surely be on the short list when it comes to shoe and commercial endorsements when and if he declares for the NBA by the April 29th deadline.
Apparently his whirlwind media tour has begun as this year's National POY made an impromptu appearance on the Jimmy Kimmel Show last night.  As always, Jimmy made it a hilarious interview, continually grilling Davis about his uni-brow, staying in school, and what he wants to buy with his impending NBA millions…….
Check out Anthony Davis on Jimmy Kimmel:
Allen Moll has been a lifelong NBA and NCAA College Basketball fan who watches and studies games religiously, and coaches youth basketball in his native Lehigh Valley region of Pennsylvania.  Allen has also provided content to Bleacherreport.com, Upperdeckblog.com, Cleveland.com, CSN Philly.com, Buckets Magazine, in addition to being a tenured NBA and NCAA columnist for TheHoopDoctors.com.