January 30, 2012 – Allen Moll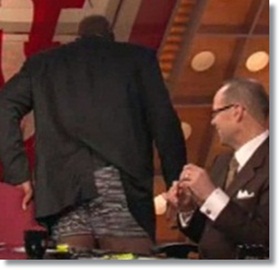 There's no denying that adding 4 time NBA Champion and future 1st ballot Hall of Famer Shaquille O'Neal to the TNT crew has been a rousing success as his sometimes rather juvenile sense of humor blends well with Kenny Smith's mostly self promoting comedic commentary. But it is Shaq's friendly digs at longtime hardwood adversary Charles Barkley that have been the most entertaining.
The two former NBA superstars never get too personal with their digs, especially since their mothers are best friends, even though they once came to blows during a Rockets/Lakers game back in 1999. Barkley even did a rather unflattering impersonation of his 7 foot co-worker when hosting Saturday Night Live.
With the recent trend of Blake Griffin and Kevin Love making their case as the best power forward in the Western Conference, Shaq and Barkley made an impromptu bet on the air as to which player would have a better showing against each-other in the Wolves/Clippers game last week.
Shaq backed Griffin while Charles took sides with Love in the epic contest which came down to the Timberwolves big man calmly sinking a game-winning trey to give Minnesota a victory.
The fall-out of Barkley winning the bet was Shaq having to do a telecast in his underwear. Too funny. Of course, this wasn't the first time Shaq has been on TV in his drawers as he once was forced to don a pink speedo for losing a to a womens volleyball team on an episode of "Shaq Vs."
Apparently, the only thing left to ask is does the big man wear boxers or briefs. Shaq, always the entertainer, does more than just answer the question, as he proudly models, dances a jig, then kisses everyone on the forehead, before spanking one of the producers. Guess Shaq is enjoying the whole TV personality thing?
Shaq Does Show In His Boxers:

Allen Moll has been a lifelong NBA and NCAA College Basketball fan who watches and studies games religiously, and coaches youth basketball in his native Lehigh Valley region of Pennsylvania.  Allen has also provided content to Bleacherreport.com, Upperdeckblog.com, Cleveland.com, CSN Philly.com, Buckets Magazine, in addition to being a tenured NBA and NCAA columnist for TheHoopDoctors.com.