July 8, 2011 – Allen Moll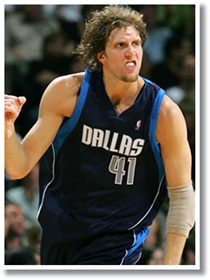 I get it, tattoos are a big part of the modern worldwide social culture. But similar to rap songs nowadays, seemingly everyone and their mother has got one. Sorry Lou Will, but stick to dunking on Lebron.
There's nothing wrong with a few well placed tattoos showing off what you're into, or as an ode to a fallen friend, or even to honor your first born child. That's one end of the tattoo spectrum, but as recently highlighted by boxing legend Mike Tyson on the Jimmy Kimmel Show, a majority of current NBA stars use their skin for a canvas when it comes to body art.
In the past, TheHoopDoctors.com has uncovered the mystery behind Kenyon Martin's lips tattoo, Deshawn Stevenson's obsession with Abe Lincoln, and Monta Ellis' impressive family tree ensemble across his entire chest.
But this one has to take the cake as the oddest tattoo I have ever seen as one diehard Dallas Mavericks fan decided to get Dirk Nowitzki's face permanently inked on his right butt-cheek. You read that right…his ass!
The man's name is oddly enough Derek Dilday and here's his reason for putting Dirk on his backside:
The inspiration came from being a huge Dirk fan, obviously. Knowing how much Dirk wanted this championship and the struggles he has been through with this team for the past 13 years made me want this championship for him more than I've wanted any other sports championship. Once they got to the Finals, especially against the Miami Heat, I may have got a little too excited and posted on Facebook that I would get Dirk's face tatted on my ass if they won it all.

I got quite a few comments back from friends, so I knew that if they did win it all I would kind of have to do it. When Dirk lifted the Larry O'Brien and the MVP trophy it was the greatest sports moment of my life. I sports-cried, called a high school friend that does tattoos and have been on a Dallas Mavericks championship high ever since. Now I realize that I will be sitting on a big German man's face for the rest of my life.
Too funny. Let's hope he doesn't decide to start mooning Dirk at Mavericks home games.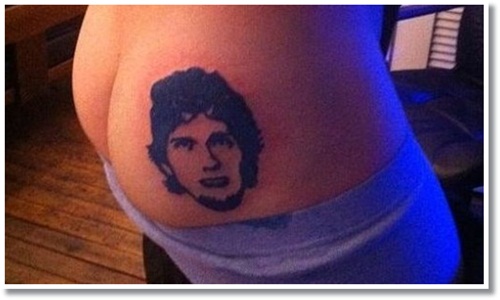 Source: Daily Observer
Allen Moll has been a lifelong NBA and NCAA College Basketball fan who watches and studies games religiously, and coaches youth basketball in his native Lehigh Valley region of Pennsylvania.  Allen also provides content to Bleacherreport.com, Upperdeckblog.com, in addition to being a tenured NBA and NCAA columnist for TheHoopDoctors.com.